Here's another in my periodic series of forgotten cavalrymen. I wish I had thought to name this series "Fiddler's Green", as Don Caughey calls this sort of profile on his blog. Ah, well.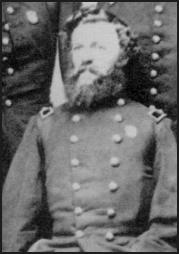 Robert Horatio George Minty was born in Westport, County Mayo, Ireland, on December 4, 1831. His father was born in Ireland and his mother was born in Scotland. His father was in the British Army. In 1848, Minty entered the British Army as an Ensign and served five years in the West Indies, Honduras and the west coast of Africa. On November 11, 1857, he married Grace Ann Abbott of London, Ontario, Canada at St Paul's Cathedral in Port Sarnica, Ontario, Canada, where his first child, Nan R. G. Minty, was born on September 29, 1858. After Nan's birth, the family moved to Michigan.
Minty was commissioned a Major in the Second Michigan Cavalry in 1861, Lieutenant Colonel of the Third Michigan Cavalry a few days afterward, and was made Colonel of the Fourth Michigan Cavalry in July, 1862. He commanded the brigade of which the Fourth Michigan formed a part a greater portion of the time during its service in the field. Minty, an Irish-born soldier of fortune, was one of a kind, having learned to use the saber when fighting for the queen in Africa. Consequently, his brigade became known as the "Saber Brigade," perhaps as a result of two successful mounted charges, both led by Minty, against Joseph Wheeler's dismounted cavalry, which was trying to hold entrenchments at Shelbyville in June 1863. Minty received a brevet to brigadier general of volunteers in March 1863 in recognition of his brilliant service throughout the war.
Minty conducted one of the most effective covering force actions of the Civil War at first Pea Vine Ridge and then fell back to Reed's Bridge, across Chickamauga Creek. Minty made a determined stand on Pea Vine that morning, including a section of the Chicago Board of Trade battery, and then covered his retreat across Reed's Bridge with mounted charges from a battalion of the 7th Pennsylvania Cavalry, which was known as the Saber Regiment. Minty's stand is especially impressive because his brigade fought all day, with 900 men, opposing the four infantry brigades of Bushrod Johnson, numbering roughly 5000 Confederates. His men pulled up the planks to Reed's Bridge, but the 23rd Tennessee re-planked the bridge (under fire) with siding from Reed's Barn.
This was a textbook delaying action every bit as effective and every bit as important as that fought by John Buford at Gettysburg on July 1, 1863. Unlike Buford, who could disengage after a couple of hours and let the I Corps take over, Minty's troopers were engaged from perhaps 10:30 am until at least 4 pm. However, and also unlike Buford's stand, it got little attention and even less praise, perhaps because Chickamauga was a debacle for the Union while Gettysburg was a signal Union victory. The tactics were identical, and the results nearly so.
After the war he settled in Jackson, Michigan and raised a total of 10 children. Minty was General Superintendent of the Grand River Valley Railroad. In Alameda County, California, on February 6, 1870, he divorced Grace Ann Abbott and subsequently married Laura Abbott in Maysville, Mason County, Kentucky on May 14, 1871.
Robert H. G. Minty died in Yavapai County, Arizona on August 24, 1906 and was buried with full military honors in Ogden, Utah on September 3, 1906.
He was one of the very best Union cavalry brigade commanders but has been largely overlooked because of his service in the Western Theater. Had he fought in the Eastern Theater and accomplished the things he accomplished in the West, he would be in the pantheon of great cavalrymen of the Civil War. He deserves to be included in those exalted ranks.
Scridb filter