Thanks to regular reader and old friend Pete Vermilyea–thanks, Pete!–I made a fascinating discovery today.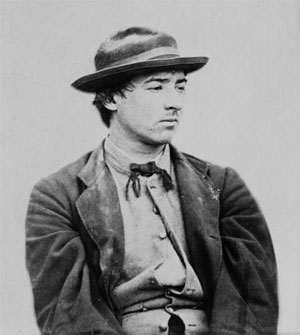 Ulric Dahlgren was born in 1842 in Bucks County, Pennsylvania. At age seven, his mother dead, the family moved to Washington, DC when his father was appointed to command the Navy's Ordnance Bureau. While the family lived in Washington, Ulric attended the Rittenhouse Academy, a prestigious private boy's school. Ulric did not graduate, but left early in 1858, his restless nature prompting him to search for greater adventures.
One of his classmates at the Rittenhouse Academy–also born in 1842–was David Herrold. Herrold, of course, was one of the Lincoln assassination conspirators who fled with John Wilkes Booth. Herrold surrendered but Booth refused, and Booth was killed by Boston Corbett of the 16th New York Cavalry. Herrold was hanged with the rest of the conspirators. Herrold likewise did not graduate from the Rittenhouse Academy–he transferred to another school–but definitely was a student there while Dahlgren was there, and they were definitely classmates during their time there together.
I own a copy of the 1858 school circular for the Rittenhouse Academy. It includes a complete listing of all students enrolled that year, as well as the full curriculum for the school. Because Herrold was not a student there that year, his name does not appear in the listing, which is why it never even occurred to me that they would have been classmates. However, they were born the same year, so they would have had to have been classmates. But for Pete tipping me off about this, I never even would have thought to investigate or even make the connection. You can bet that I will be mentioning it in the book…..
I find it fascinating that two young men of great promise who were boyhood schoolmates both died in the midst of attempts to assassinate heads of state. I'm sure it's coincidence, but wow, it surely is interesting and intriguing.
Thanks again for tipping me off to this fascinating find, Pete.
Scridb filter