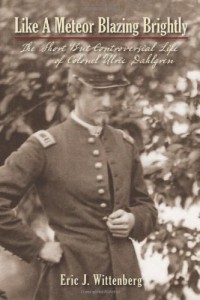 One of my favorite projects of mine, and one of the projects I am most proud of, is my 2009 biography of Ulric Dahlgren, Like a Meteor Blazing Brightly: The Short but Controversial Life of Colonel Ulric Dahlgren. The book has been universally well received. Unfortunately, the publisher, Edinborough Press, lost its distributor, and even though I have always had inventory of them, it has not been available through Amazon or otherwise for quite a while now. Sadly, Edinborough's efforts to obtain a new distributor have not been successful.
Dan Hoisington, the publisher at Edinborough, has graciously agreed to revert the publication rights to the book back to me, and I have struck a deal with my favorite publisher, Savas-Beatie, for the book to become generally available again. One of the many reasons why I love working with Savas-Beatie is its really outstanding distribution network, so the prior problem should not arise again.
In very short order, Savas-Beatie will make an eBook version of it available in all digital formats (Kindle, iPad, Android, Nook, etc.) for download. A 6 x 9 trade paperback of the book will be available later this year at a price yet to be determined. Once I know the date and the price, I will let everyone know.
In the interim, hardcover copies of the original edition of the book will continue to be available through me for the original price of $29.95, and are available either signed or unsigned. Please contact me directly to purchase those.
And Ted Savas and I are working on bringing back another old favorite of mine that has been out print for far too long. Stand by for important news on that soon…..
Scridb filter