A fellow named Tony Larson posted several comments on this blog today. Mr. Larson appears to be a first-time poster, and his comments were very interesting. Mr. Larson's blog exists to support Republican causes, and this is a VERY blue blog. I won't hold Mr. Larson's political beliefs against him, as his comments directed me to a Civil War cavalry regiment I had never heard of previously.
The comments, which can be found appended to this post, provide profiles of several Republican politicians who were Civil War veterans (including William P. Lord of the 1st Delaware Cavalry, who was mentioned in my profile of Maj. Napoleon Bonaparte Knight). One of those comments referred to the 1st Oregon Cavalry. I had never heard of the 1st Oregon Cavalry prior to read Mr. Larson's comments this evening.
Here's the entry on this unit from Wikipedia: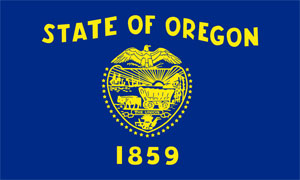 1st Oregon Volunteer Cavalry Regiment
The First Regiment, Oregon Cavalry was a regiment in the volunteer Union army that participated in the American Civil War. With many men recruited from California, the regiment primarily served to protect the state of Oregon and surrounding territories in the Pacific Coast Theater of the American Civil War.
The initial part of the regiment (companies A through F) was organized and mustered into the army in Oregon from February to April 1862. In May 1862, it was sent into the Washington Territory to the Walla Walla country to protect immigrants and miners along the Salmon River. The 1st Oregon occupied Fort Walla Walla in June 1862 and sent out various expeditions over the next two years to fight the Snake Indians and other threats. Hence, the regiment was rarely intact as a single unit for much of the war. Several companies scattered to other frontier forts, including Fort Vancouver and Fort Dalles (see also The Dalles, Oregon) for detached duty such as constructing roads through the wilderness.
In January 1863, the remaining portion of the regiment (companies G, H, I, K, and M) were authorized and activated for duty. Companies G and H served at Camp Watson on Rock Creek, Oregon; Company I was at Fort Klamath, Company K at Fort Dalles and Companies L and M at Fort Boles in Idaho Territory. The battalion came together for several skirmishes in the Harney Lake Valley and other locations with local Indians.
In January 1865, Col. Reuben F. Maury, 1st Oregon Cavalry, assumed command of the Federal District of Oregon.
The 1st Oregon Cavalry mustered out November 20, 1866.
Until this evening, I never even knew that this regiment existed. Never mind that it never fired a shot in anger at a Confederate soldier. They were still Union cavalrymen and entitled to recognition as such.
Thank you for making me aware of this regiment, Mr. Larson.
Scridb filter