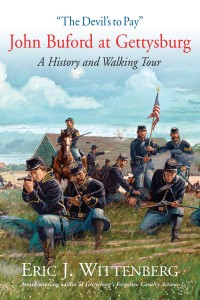 Time for some shameless self-promotion. Over the weekend, I signed off on the page galleys for my newest book, The Devil's to Pay: John Buford at Gettysburg. A History and Walking Tour. The file has been sent to the printer, and in about five weeks, my publisher, Savas Beatie, LLC, will have books.
This is, in many ways, the culmination of my life's work. I began researching what started out as a bio of John Buford not long after Susan and I got married din 1992. This study of John Buford at Gettysburg has been percolating all that time. The book will feature 17 of Phil Laino's excellent maps (including two that have never before been mapped) and more than 80 illustrations (including three images that have never before been published). I'm really excited to finally see this in print after all of these years.
The book will sell for $32.95 plus $3.95 for shipping. I will also be offering a special collector's edition that contains a special signed and numbered bookplate that will make for a perfect gift for $75.00. Shipping is free for the special edition. I am taking pre-orders for signed copies beginning tonight. Those interested can pay one of three ways: by PayPal, by credit card, or by check. If you wish to pay using PayPal, please use the email address eric_at_civilwarcavalry.com (I have stated the address that way so that bots don't pick it up as easily). If you wish to pay by credit card, please send me an email to that address, and include your name, address, credit card number, expiration date, CVV on the back (the three-digit or four-digit code), and the billing address. If you want to pay by check, please send me an email at that address, and I will provide you with a mailing address.
Thank you for your interest in my work, and I hope everyone enjoys the book, which has been a LONG time coming.
Scridb filter