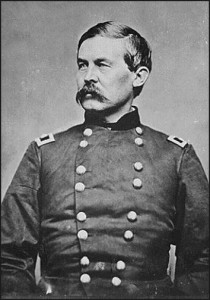 150 years ago today, Maj. Gen. John Buford, the finest cavalryman produced by the Union during the Civil War, died of typhoid fever at the far too-young age of 37. The rigors of so many years of hard marching and fighting had taken their toll on Buford, who had contracted typhoid fever "from fatigue and extreme hardship," after participating in the marches and fighting during the Mine Run Campaign that on November 7-8 compelled Lee's Army of Northern Virginia to abandon the line on the Rappahannock River and retire behind the Rapidan River. By November 16, he was quite ill. Buford was granted a leave of absence and removed to Washington, D.C., on November 20, 1863.
There he was taken to the home of his good friend, General George Stoneman. Buford's condition deteriorated quickly, and it soon became apparent that he would not survive.
On December 16, 1863, President Lincoln sent a note to Secretary of War Edwin M. Stanton, who was said not to trust anyone with southern antecedents, and who disliked most of the officers associated with John Pope's Army of Virginia. Lincoln's note requested that the gravely-ill Buford, whom Lincoln did not expect to survive the day, be promoted to major general. Although the promotion was well deserved, Stanton permitted Buford's promotion only when it became certain that Buford was dying. The promotion was to be retroactive to July 1. 1863, in tribute to Buford's service at Gettysburg. "Buford lapsed in and out of delirium, alternately scolding and apologizing to his black servant, who sat weeping by the general's bed- side. He was comforted by several old comrades, including his aide, Capt. Myles Keogh, and General Stoneman. When the major general's commission arrived, Buford had a few lucid moments, murmuring, "Too late. . . . Now I wish that I could live." Keogh helped him sign the necessary forms and signed as a witness, and Capt. A. J. Alexander, 1st U.S., wrote a letter to Stanton for Buford, accepting the promotion. Buford's last intelligible words–fitting for a career cavalryman–were, "Put guards on all the roads, and don't let the men run back to the rear." He died in the arms of his devoted aide and surrogate son, Keogh, on December 16.
Brig. Gen. Wesley Merritt, Buford's protege and the temporary commander of his First Division, prepared general orders:
His master mind and incomparable genius as a cavalry chief, you all know by the dangers through which be has brought you, when enemies surrounded you and destruction seemed inevitable…. The profound anguish which we all feel forbids the use of empty words, which so feebly express his virtues. Let us silently mingle our tears with those of the nation in lamenting the untimely death of this pure and noble man, the devoted and patriotic lover of his country, the soldier without fear and with out reproach.
The First Cavalry Division's staff officers prepared resolutions of regret, lamenting Buford's death and resolving that the members of the First Division would wear the badge of mourning for thirty days as a sign of respect for their leader. Another of Buford's peers wrote in his diary,
December 20: The army and the country have met with a great loss by the death of . . . Buford. He was decidedly the best cavalry general that we had, and was acknowledged as such in the army. [He was] rough in his exterior, never looking after his own comfort, untiring on the march and in the supervision of all the militia of his command, quiet and unassuming in his manners.
In a tribute, the men of the First Division raised money to erect a monument to Buford at his grave site at the U.S. Military Academy at West Point, a fitting final campground for a Regular. Most members of the 9th New York contributed a dollar each to pay for the monument.
Had Buford not fallen ill, he would have gone west to assume command of the Cavalry Corps of the Army of the Cumberland. The thoughts of a confrontation between Buford and Nathan Bedford Forrest boggles one's mind, particularly since Buford's first cousin Abraham assumed command of one of Forrest's divisions in early 1864. Alas, it was not to be.
And so, we will leave it with the words of Buford's dear friend, Maj. Gen. John Gibbon, who said, "John Buford was the finest cavalryman I ever saw." What more needs to be said?
At Gettysburg, the Devil gave him a huge debt to pay, but Buford and his troopers did so magnificently. Here's to Maj. Gen. John Buford, gone far too soon, but most assuredly not forgotten.
Scridb filter