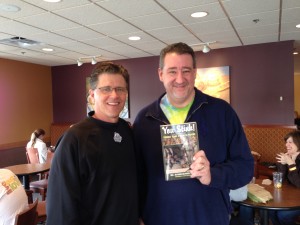 Shown in the photo with me is my friend David Raymond, who wrote the foreword to You Stink! Major League Baseball's Terrible Teams and Pathetic Players. Unless you're either a long-time, die-hard Phillies fan, or a die-hard fan of the University of Delaware's football program, the likelihood is that you don't know who Dave is. Click on the photo to see a larger image.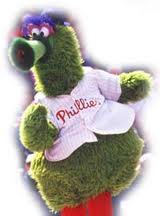 The other photo is Dave's alter ego, the Phillie Phanatic. Dave was the original Phillie Phanatic. He wore the green suit from the time that the character was introduced in 1978 through the 1993 World Series season, and then he passed the suit on to the current Phanatic's Phriend, Tom Burgoyne. Dave then founded Raymond Entertainment Group, where his self-bestowed (but very accurate) title is Emperor of Fun and Games.
One of the products delivered by the Raymond Entertainment Group is fun. And by fun, I mean The Fun Department. Since 2006 The Fun Department has been delivering Fun to corporations throughout the tri-state area. "We are out to make corporate America smile one face at a time", says Dave. The Power of Fun is a message that Dave delivers everyday with Raymond Entertainment and The Fun Department. Dave regularly gives his Power of Fun speech to groups in the hope of teaching them that bringing joy, laughter and fun to every day life is not only therapeutic, it is good business. After years of delivering this message in person, Dave decided that it was time to deliver the message of Fun to the masses by writing a book.
And then Dave asked me to be his co-author for the project, which will be called The Power of Fun. We're still mapping out the contents of the book and precisely what it will cover, but Dave and I both think that this collaboration will be great fun, and that it is important for us to preach the gospel of Fun.
And so, I will be tackling a project very much unlike anything else that I have ever done. Life is all about challenging oneself and stretching one's limitations. There is much to learn by this project, and there is much for us to teach. I'm greatly looking forward to working with Dave to spread the word about the Power of Fun. Please stay tuned for periodic updates.
In case any of you are interested in booking Dave for a presentation on the Power of Fun, you can reach him by clicking here.
Scridb filter