Thank you to reader Jeff Anderson, of Rockton, Illinois, for bringing this good news to my attention.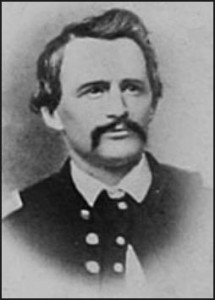 Brig. Gen. Elon J. Farnsworth, who only got to wear his general's star for five days before the ego of Judson Kilpatrick sent Farnsworth to his death needlessly at Gettysburg, was taken to his home town of Rockton for burial. Apparently, the large monument over his grave has fallen into some degree of disrepair over the years, but I'm pleased to report that that is no longer the case. From Tuesday's edition of the Rockford Register Star newspaper: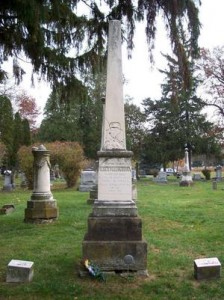 Rockton cemetery project brings Civil War history into the light
By Greg Stanley
RRSTAR.COM
Posted Nov 20, 2012 @ 12:00 AM

ROCKTON — Rockton Township officials have refurbished a little local history in Year 3 of a cemetery restoration project.

The township has set aside $10,000 each year to restore and clean headstones in the oldest part of the cemetery, which dates to the 1800s.

"We're trying to do more Civil War markers this time around," cemetery sexton Jerri Noller says.
The most prominent headstone restored this year belongs to Elon J. Farnsworth, a brigadier general for the Union who became something of a celebrity in his death.

Farnsworth was a rising star when he was made general at 25 years old (along with a 24-year-old George Armstrong Custer) on June 29, 1863 — two days before the battle of Gettysburg. He was killed four days later, on the final day of the battle, in what many historians have described as a reckless blunder of the vain and philandering Gen. Hugh Judson Kilpatrick.

Kilpatrick ordered Farnsworth to lead a doomed charge against a Confederate stronghold of little strategic importance to the battle, according to historian Edwin B. Coddington's well-regarded 1968 tome, "The Gettysburg Campaign: A Study in Command."

"Although Farnsworth protested it was suicide, Kilpatrick insisted that he should charge with half his brigade," Coddington writes. Farnsworth "put on a brilliant display of courage and horsemanship, but the attack ended in a fiasco."

It became known as "Farnsworth's Charge" and led to 101 casualties, according to one historian's report for the National Park Service.

Farnsworth was born and raised in Michigan, but his body was brought back to Rockton Township to be buried next to his mother and father.

Greg Stanley: 815-987-1369; gstanley@rrstar.com; @greggstanley
On this Thanksgiving Day, I find it difficult to say how gratified I am to hear that this largely forgotten hero of the Battle of Gettysburg is being remembered by his home town. So far as I can tell, in all my years of researching the Civil War, I have never been able to identify another general officer who was killed in action while leading an attack BEHIND enemy lines, as Farnsworth was. His valor was wasted by the ambitions of Judson Kilpatrick, but that valor is nevertheless still worthy of commemoration, and I tip my cap to the township for being willing to spend the money to see that his grave is not forgotten.
And on this Thanksgiving Day, I wish each and every one of you a joyous day with family and friends. Enjoy your day, the good food, and the comradeship, but at the same time, let's not lose sight of the purpose of the day: be thankful for the blessings that you have. And I am thankful for all of you.
Scridb filter