I got the cover art for my new book, The Battle of White Sulphur Springs: Averell Fails to Secure West Virginia, today. It's below. See what you think: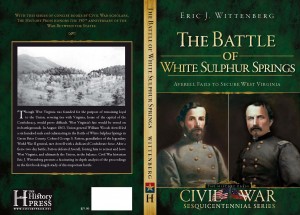 If you click on the image itself, you will get a larger version of it that is far more legible. I should note that the text in the box on the back cover is still in draft form and is still being tweaked. It is NOT the final copy for the back cover.
The book is scheduled to be released about Halloween.
I'll be happy to take orders for signed copies for those who are interested. Please use the "contact me" button above to let me know that you want a copy, and I can then let you know how to proceed from there.
I'm excited to see it in print.
Scridb filter