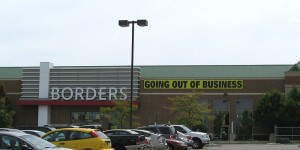 On Sunday, September 18, 2011–three days from today–the final Borders stores will close. Most of them have already shuttered up and gone dark. The last two Michigan stores close today. That's especially sad, as Borders was born and based in Ann Arbor. The last store in Las Vegas also closes today. The last Chicago store closed yesterday, and the liquidator donated 8000 books to the Chicago schools. For those of us who love books, this is nothing but sad news.
I spent many an hour in our local Borders stores in the 20+ years that the company conducted business in Columbus, and God only knows how much money. I enjoyed the ambiance of the stores: LOTS of books on lots of subjects, nice, comfortable chairs to sit and browse the books, nice bistros to get a snack or something to drink. The stores always had excellent inventories and selections of Civil War books, which I always very much appreciated, usually including at least one of my titles and usually more. I could–and did–spend many hours in Borders, and I have felt a persistent sense of loss since our local stores closed several months ago during the first major round of store closures.
Sadly, the story of the failure of Borders may never be told. It is a sad tale of bad business decisions, a terrible choice of CEO in hiring someone who knew nothing about the bookselling business, really unfavorable leases (the flagship Chicago store had monthly rent of $1,000,000 per month–you have to sell a LOT of books to meet that nut), staying in the CD business too long when the music business has changed dramatically due to the popularity of devices like the iPod, poor technology–whomever thought that it was a smart move to partner with Amazon, Borders' primary competitor, for online sales wasn't terribly bright, and whomever missed the boat on developing and marketing an e-reader to compete with the Nook and the Kindle was just plain stupid. Finally, Borders was a victim of the changing paradigm of the book publishing business, which is filled with uncertainty as to what the future holds. Thus, the Borders saga is a cautionary tale, both of how NOT to run a business, but also of how to run a business into the ground, and its failure was probably inevitable. There are many lessons to be learned from its failure. However, the inevitable failure of Borders is nevertheless a sad thing for anyone who loves books.
Simon & Schuster, which was Borders' biggest creditor and which recently negotiated a more favorable deal with Barnes & Noble, put the kaibosh on a potential sale of the corpse of Borders to the Book-of-the-Month Club, which was going to dip a toe into the water of brick and mortal retail sales. It also nixed the sale of more than 30 of the Borders leases to Books-a-Million in order to cozy up to Barnes & Noble.
And so, we're left with Barnes & Noble and Books-a-Million. I detest Barnes & Noble. The stores carry only a tiny percentage of the incredible inventory that Borders maintained and it's a quintessential big box retailer that cares nothing about the customers. The last time that I was in the local B & N superstore, it had about 30 Civil War titles in its inventory–that's it. Even though I am a local author who lives about five miles from the store, they rarely ever have any of my stuff, even in the local interest section. It really makes me angry, if the truth be told. Books-a-Million does not maintain a presence in Central Ohio, so our only option is B&N, meaning that it looks like I will be doing the overwhelming majority of my future book buying through Amazon.
The only good thing that may come out of the death of Borders is a rebirth for the small, independent bookseller, as this article points out. No matter how popular electronic gadgets like the Nook or Kindle may become, old school guys like me will always prefer to hold the real thing. I just prefer the look and smell and feel of a real book, and I will always prefer them to my Nook. The failure of big box Borders opens the door for the independent booksellers to cater to the likes of me, and I hope that they do. I would dearly love to have an alternative to Barnes & Noble in Columbus, and I will continue to buy books from the independent booksellers (such as the Abraham Lincoln Bookshop, which is a sponsor of this blog).
Fare thee well, Borders. You will be missed.
Scridb filter