It's been quite a while since I've profiled a forgotten cavalryman, so I thought now would be a good time to do one. Tonight's profile is of Col. Nathaniel P. Richmond of the 1st West Virginia Cavalry.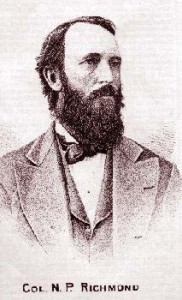 Nathaniel P. Richmond was born in Indianapolis on July 26, 1833. His father Ansel was from New York, and had his family roots in New England. He was a member of a prominent law firm, and served as the clerk of courts. His mother, Elizabeth S. Pendleton Richmond, was an Ohio native with Virginia roots who was a cousin of President James Madison.
At age 17, Nathaniel entered Brown University in Providence, Rhode Island, but he did not complete his course of study due to ill health that compelled him to leave the university at the end of his sophomore year. In the hope of regaining his health, he set off on a cross-country journey through Nebraska, Wyoming, Idaho, and on to Oregon. He remained in Oregon for about three years, working odd jobs and exploring the northwestern territories. He then went to California, embarking on a long voyage home. After crossing the isthmus of Nicaragua, he embarked on a different ship to finish the trip home, arriving on March 11, 1852, four years after he began his grand journey.
He was apprenticed to a law firm in Kokomo, Indiana, and upon completing his studies, was admitted to the bar in 1856. When one of the partners in the law firm retired the next year, Richmond took his place from 1857-1860. In 1860, he was appointed a special collecting agent for an Indianapolis firm, a position he held until the firing on Fort Sumter in April 1861. On January 19, 1858, he married Miss Mary Kennedy, and the couple had four children, two of whom died in infancy. The two surviving children were William, born on December 25, 1864, and Glenn, born on May 17, 1866.
That April, he joined a company of Indiana troops as a second lieutenant in Co. E, 13th Indiana Infantry. Richmond served as an aide-de-camp to Brig. Gen. William S. Rosecrans in what later became West Virginia in the early days of the war. In August 1861, he was commissioned lieutenant colonel of the 1st Virginia Cavalry, which later became known as the 1st West Virginia Cavalry.
During the spring of 1862, the 1st West Virginia Cavalry served in the Shenandoah Valley under the command of Maj. Gen. John C. Fremont. He was promoted to colonel in August 1862, after his unit, the 5th New York Cavalry, the 1st Michigan Cavalry, and the 1st Vermont Cavalry were brigaded together under the command of Brig. Gen. John Buford, and was attached to Maj. Gen. John Pope's Army of Virginia.
He and his troopers served with distinction during the Second Bull Run Campaign. Buford's brigade fought a hard rear guard action against Confederate cavalry at the Lewis Ford during the closing engagements of the Second Battle of Bull Run on August 30, 1862, and Richmond's regiment was in the thick of that fighting. One of his officers wrote of him:
I will just speak of one engagement which will at once prove the fighting qualities of Colonel Richmond. On the 21st of August our pickets were driven in from the posts at Kelley's Ford on the Rappahannock. Colonel Richmond received an order to proceed with his regiment, and find, if possible, the position and number of the enemy. At noon we crossed the river and found the enemy's pickets and skirmishers in force. Considering that but child's play we drove them before us with ease. Our regiment was ordered to take the center and advance cautiously through the woods. On emerging therefrom, we received a heavy volley from the advance regiment of a brigade, which we found drawn up in line of battle; a charge was ordered, and through clouds of smoke and fire, we dashed upon the brigade. The gallant Colonel, at the head of his men, raising himself in the saddle and flourishing his saber, cries out "Come on my bully boys" and in a moment they were lost in the smoke. The incessant firing, and clashing of sabers parrying the thrusted bayonet, the almost demon-like cheering of our men, formed a scene beautifully grand. The rebels retreated, and we were ordered to fall back to an open field beyond the road. Colonel Richmond was covered with blood from head to foot. Two noble fellows who were at his side had been shot, and their life;s blood was still warm on his clothes. The gallant charge of this regiment at Bull Run, when the left wing under McDowell was being turned, has elicited great praise. It has been said that the First Virginia Cavalry, by keeping the enemy back, saved ten thousand of McDowell's infantry.
Richmond assumed command of the brigade during the winter of 1862-1863 after Buford became chief of cavalry of the Army of the Potomac. This brigade was a part of the cavalry division assigned to the defenses of Washington, DC, commanded by Maj. Gen. Julius Stahel. He had contracted a chronic case of the piles during the Second Bull Run Campaign, and took disability leave for a time in an effort to recover. This problem plagued him for the rest of his life.
In mid-June 1863, this division became the Army of the Potomac's Third Cavalry Division, and Brig. Gen. Judson Kilpatrick replaced Stahel. On June 28, 1863, Brig. Gen. Elon J. Farnsworth took command of the brigade, serving with valor for just five days. The 1st West Virginia fought hard during the June 30, 1863 Battle of Hanover, and then Richmond led it in both mounted and dismounted attacks during the Battle of Gettysburg. Farnsworth died at the head of his troops, leading a suicidal cavalry charge against Confederate infantry and artillery at Gettysburg on the afternoon of July 3, 1863. As the ranking regimental colonel, Richmond assumed command of the brigade, leading it through the pursuit of Robert E. Lee's Army of Northern Virginia in the days after the Battle of Gettysburg.
Richmond served effectively as brigade commander, leading it in combat at Monterey Pass, Smithsburg, Hagerstown, and Falling Waters. When Col. Othniel de Forest of the 5th New York Cavalry returned to duty after missing the Battle of Gettysburg due to illness, Richmond returned to regimental command of the 1st West Virginia Cavalry. "He has won an enviable distinction as a cavalry officer," noted a fellow horse soldier, "he led a brigade through the battles at Gettysburg and lately in our movements, and has been made chairman of the board of inspection of cavalry."
He returned to duty in the field, leading his regiment during the extended cavalry campaigning that occupied most of the fall of 1863. His horse was shot out from under him during a heavy skirmish at Raccoon Ford on the Rapidan River on October 11, 1863, and the beast fell on Richmond, who badly injured his right hip and the small of his back. He took leave of absence and went to Culpeper Court House to recuperate, but got no better; indeed, these injuries caused him partial disability for the rest of his life. Consequently, he resigned his commission for health reasons in the spring of 1864 and went home. Then, in the spring of 1865, he unexpectedly received a commission as a colonel in the Veteran Reserve Corps, and was assigned to duty as superintendent of recruiting service for that corps for the State of Indiana. With the war over, he resigned his commission in August 1865.
Richmond then entered Republican politics in his home state of Indiana. From the time that he came home in 1864 through 1868, he represented his district in the Indiana State Senate. He was elected to city council in 1869 and then again 1871-1872, and in 1873 was elected mayor of Kokomo. "He possesses energy, courage, self-reliance, quick perception and decision, all the qualities that make the successful military officer and the leader in civil affairs," noted a biographer, "yet with these is united a modest estimation of self that is a 'candle to his merit,' revealing more clearly the genuine virtues of his character."
After ending his political career, Richmond worked as a lawyer and gentleman farmer near Kokomo. In 1882, he retired and moved to Malvern, Arkansas, in Hot Springs County, where he enjoyed the healing powers of the spa there. Richmond lived until the ripe old age of 85. He died on June 28, 1919, just a few weeks before his 86th birthday. He was buried in Crown Point Cemetery in Kokomo.
Here's to Col. Nathaniel P. Richmond of the 1st West Virginia Cavalry, a fine soldier who did his duty and did it well.
Scridb filter