Many of you are familiar with the incredibly detailed and accurate artwork of Don Troiani. However, you may not be aware of the incredible collection of artifacts–mostly uniform pieces and accouterments–that Don has accumulated over the years.
In an e-mail dialogue with Don over the weekend, I learned that among the items in his collection are one of the bloody gauntlets that Ully Dahglren was wearing when he was killed, as well as his sash. The sash has two bullet holes in it, which tells us where at least two of the fusillade of bullets that killed Ulric Dahlgren found their mark.
Don was kind enough to offer to photograph the gauntlet and sash for me, to give me permission to use the photo in the upcoming bio of Dahlgren, and to grant me permission to post the photo here. Don himself took the picture that you see here.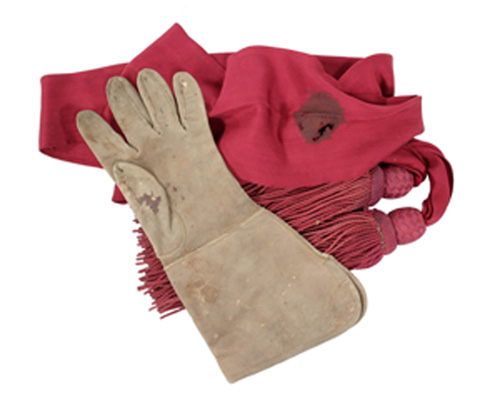 What a find. And with just barely enough time to still include it in the book. Thanks for you generosity, Don. It's greatly appreciated.
Scridb filter