Here is another installment in my infrequent profiles of Civil War cavalrymen. This particular soldier has a fascinating tale.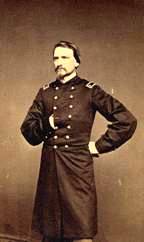 Henry Washington Sawyer was born in Lehigh County, Pennsylvania on May 16, 1829. He received a common school education in Lehigh County and then learned the carpenter's trade. In 1848, he moved to Cape May, New Jersey, where he worked as a carpenter until the outbreak of the Civil War. He married and had three children.
When President Lincoln issued his first call for volunteers on April 15, 1861, Sawyer was among the first to offer his services to New Jersey Gov. Charles S. Olden at Trenton. However, there was no organization for troops ready for muster-in yet, and because secessionists had interrupted mail and telegraphic communication with Washington, Governor Olden sent Sawyer to Washington to deliver important dispatches to Secretary of War Simon Cameron.
On April 18, 1861, he enlisted as a private in a three-month regiment, the 25th Pennsylvania Volunteer Infantry, the first volunteer troops to arrive in the national capitol. The 25th Pennsylvania was engaged in barricading and guarding the Capitol until the arrival of the 6th Massachusetts and 7th New York regiments. At midnight on April 19, he was chosen to be one of the guards to protect the Capitol, there being but one company of regular cavalry in Washington. On the 20th, five companies of Pennsylvania three-months' men arrived, to one of which Sawyer was attached as private. In recognition of this service, Sawyer received a special medal from the Pennsylvania legislature. He was promoted to sergeant on May 14, 1861, and was then discharged on July 23, 1861 at the end of his three-month term of enlistment.
With the assistance of Governor Olden, he was commissioned a second lieutenant in Company D of Halsted's Cavalry Regiment, an independent organization raised under the provisions of an Act of Congress approved on July 22, 1861. By order of the War Department of February 19, 1862, this unit was re-designated the 1st Regiment, Cavalry, New Jersey Volunteers, which proved to be one of the finest fighting units of the American Civil War. It was involved in 97 different engagements during the Civil War. On August 20, 1861, Sawyer was mustered in at Trenton, and shortly after proceeded to Washington, D.C. with his regiment. When his company's first lieutenant resigned his commission, Sawyer was promoted to first lieutenant on Aril 7, 1862, and was promoted again, this time to captain of Company K, on September 8, 1862, when Capt. Virgil Brodrick was promoted to major.
Sawyer was wounded in 1862 at Woodstock, Va. when his horse was shot out from under him. The dying beast fell on Sawyer's right leg. He later developed "extosis of the bone" in his thigh as the femur had sharp edges protruding from it. Sawyer was in constant pain and limped for the rest of his life.
On October 31, 1862, at Aldie, Va., Sawyer was wounded again. He led a small group on a reconnaissance mission. About 1,500 Southern cavalrymen attacked them. Sawyer stayed behind to cover his men's escape, but was shot in the stomach. Sawyer somehow survived. The bullet had lodged near his spine, and the Army surgeons were afraid to remove it. He was sent home to recover, where civilian surgeons successfully removed the bullet.
Sawyer's regiment, the 1st New Jersey Cavalry, was heavily engaged at the Battle of Brandy Station. Sawyer received two serious wounds in the fighting for Fleetwood Hill, one of which passed clear through his thigh, and the other struck his right cheek and then passed out the back of his neck on the left side of his spine. Despite these two serious wounds, Sawyer remained in the saddle until his horse was shot. The mortally wounded beast sprang into the air and fell dead, throwing Sawyer with so much force that it knocked him senseless. When he recovered consciousness Captain Sawyer saw Lieutenant Colonel Broderick lying near, and crawled up to him, but on examination found that he was dead. A short distance further on he saw Major Shellmire, while all around him were men of his own or other companies, either killed or wounded. While by the side of Colonel Broderick, Captain Sawyer was seen by two rebel soldiers, who took him prisoner, and, after washing the blood from his face with water from a neighboring ditch, conveyed him to the rear.
He was treated at a home in Culpeper, and his two combat wounds from Brandy Station were declared "very dangerous, if not mortal." However, he recovered enough to be transported from Culpeper to Richmond's notorious Libby Prison, "only to face the horrible fate which this heroic captain wished he had escaped by death through the bullet he had previously received through his head in battle."
On April 9 1863, Federal soldiers arrested Confederate Capts. William F. Corbin and T. G. McGraw near Rouse's Mills, Kentucky. They were tried before a military commission convened by Maj. Gen. Ambrose E. Burnside, commander of the Department of the Ohio, and were convicted of being spies and recruiting within Federal lines. On May 15, Corbin and McGraw were executed at the prisoner of war camp at Johnson's Island, near Sandusky, Ohio.
When Col. Robert Ould, the Confederate agent for the exchange of prisoners of war, learned of these executions through the press, he informed his Union counterpart, Lt. Col. William H. Ludlow, that the Confederate authorities had ordered two Union captains in their custody to be selected for execution in retaliation for this perceived barbarity. On May 25, 1863, Lieutenant Colonel Ludlow informed Ould that Captains Corbin and McGraw were being executed as being spies, and "that if he proposed to select brave and honorable officers who had been captured in fair open fight on the battlefield and barbarously put to death in just retribution for the punishment of spies, he gave him formal notice that the United States Government would exercise their discretion in selecting such persons as they thought best for the purpose of count retaliation." Ludlow had already received notice that the Confederates had condemned Capt. Samuel McKee of the 14th Kentucky Cavalry and a Lieutenant Shepherd, as the two officers to be executed. However, some influential politicians intervened with Confederate President Jefferson Davis, and the two men were spared.
Brig. Gen. John H. Winder, who commanded the Department of Henrico, Virginia, issued Special Orders No. 160 on July 6, 1863, ordering Capt. Thomas P. Turner, the commandant of Libby Prison, to select by lot two captains from among the prisoners to be shot in retaliation for the deaths of Corbin and McGraw. Turner summoned all of the seventy-five Union captains being held in Libby Prison, and announced, "Gentlemen, it is my painful duty to communicate to you an order I have received from General Winder, which I will read."
After reading the order, Turner had them men formed into a hollow square, in the center of which was placed a table. The names of all of the Union captains were written on slips of paper, carefully folded up, and then placed in a box. The first two names drawn would be the two men shot. He gave the officers the choice of who would draw the names, but nobody came forward. Instead, Sawyer suggested a chaplain of the U.S. Army. Three chaplains were called down, and Rev. Joseph T. Brown, of the 6th Maryland Infantry drew the first name, which was Sawyer's. The second name drawn as that of Capt. John M. Flinn of the 51st Indiana Infantry. "When the names were read out," reported the Richmond Dispatch, "Sawyer heard it with no apparent emotion, remarking that some one had to be drawn, and he could stand it as well as any one else. Flynn was very white and depressed." The two men were placed in solitary confinement to await their execution. No date for the execution was set.
Sawyer realized that if he could bring his plight to the attention of the Federal government, something might be done to save his life. He asked for, and received, permission to write to his wife. Sawyer penned a lengthy letter to his wife explaining the fate that awaited him:
Richmond, Va., July 6th, 1863.

My Dear Wife: I am under the necessity of informing you that my prospects look dark.

This morning all the captains now prisoners at the Libby Military Prison drew lots for two to be executed. It fell to my lot. Myself and Captain Flynn, of the Fifty-first Indiana Infantry, will be executed for two captains executed by Burnside.

The Provost- General, J. H. Winder, assures me that the Secretary of War of the Southern Confederacy will permit yourself and my dear children to visit me before I am executed. You will be permitted to bring an attendant. Captain Whillidin, or Uncle W. W. Ware, or Dan, had better come with you. My situation is hard to be borne, and I cannot think of dying without seeing you and the children. You will be allowed to return without molestation to your home. I am resigned to whatever is in store for me, with the consolation that I die without having committed any crime. I have no trial, no jury, nor am I charged with any crime, but it fell to my lot. You will proceed to Washington. My government will give you transportation for Fortress Monroe, and you will get here by a flag of truce,and return the same way. Bring with you a shirt for me.

It will be necessary for you to preserve this letter to bring evidence at Washington of my condition. My pay is due me from the 1st of March, which you are entitled to. Captain B– owes me fifty dollars, money lent to him when he went on a furlough. You will write to him at once, and he will send it to you.

My dear wife, the fortune of war has put me in this position. If I must die, a sacrifice to my country, with God's will I must submit; only let me see you once more, and I will die becoming a man and an officer; but, for God's sake, do not disappoint me. Write to me as soon as you get this, and go to Captain Whilldin; he will advise you what to do.

I have done nothing to deserve this penalty. But you must submit to your fate. It will be no disgrace to myself, you or the children; but you may point with pride and say: "I give my husband;" my children will have the consolation to say: "I was made an orphan for my country."

God will provide for you; never fear. Oh! it is hard to leave you thus. I wish the ball that passed through my head in the last battle would have done its work; but it was not to be so. My mind is somewhat influenced, for it has come so suddenly on me. Write to me as soon as you get this; leave your letter open, and I will get it. Direct my name and rank, by way of Fortress Monroe.

Farewell! farewell!! and I hope it is all for the best. I remain yours until death,

H. W. Sawyer, Captain First New Jersey Cavalry.
Upon completing his letter, Sawyer burst into tears at the thought of leaving his wife and children behind.
Sawyer and Flinn were placed in close confinement in an underground dungeon and fed only corn bread and water, their clothing molding in the dank, damp dungeon. The vault was only about six feet wide, and had no place for light or air, except a hole about six inches-square cut in the door. A sentry constantly stood duty in front of this door, whose duty it was to challenge the inmates once in each half hour and receive a reply. This, of course, rendered it impossible for both the inmates to sleep at one time. Sleep would have been impossible anyway. One of the two had remain awake to keep away the rats, which swarmed in the cell, off his comrade. The two men understandably grew deeply depressed as they awaited their cold fate, unaware of the efforts being undertaken to save their lives.
On July 11, the two officers penned a letter to Winder, pleading for their lives. "You are aware in obedience to your order we were by lot selected from among the Federal captains for execution," they wrote. "No crime is charged against us, nor have we been guilty of any. It seems our lives are demanded as a measure of retaliation on our Government for the execution of two persons in Burnside's department of our army. Of these persons we know nothing, nor of the circumstances attending them. We never had any connection with that part of the army." They suggested that they should only be held for events that occurred in their theater of the war and suggested that Winder instead consider several officers from the Western Theater. They concluded by pleading, "Innocent as we are of any offense against the rules of war, in the name of humanity we ask you if our lives are to be exacted for the alleged offense of other men in other departments of the army than that in which we served?"
In the interim, Colonel Ludlum, who was an astute observer, wrote to recommend a course of action to save the lives of Sawyer and Flinn. "I respectfully and earnestly recommend that two Confederate officers in our hands be immediately selected for execution in retaliation for the threatened one of Sawyer and Flinn, and that I be authorized to communicate their names to the Confederate authorities, with the proper notice." This wise suggestion provided the basis for a strategy that saved the lives of the two unfortunate captains.
Upon learning her husband's fate, a horrified Mrs. Sawyer hastened to Washington, D.C. to present the case to President Abraham Lincoln. She traveled with a friend, Capt. W. Whelden, and Representative J. T. Nixons of New Jersey, and met with the President on July 14. Lincoln immediately ordered Maj. Gen. Henry W. Halleck, the commanding general of the U.S. Army, to send the following communication to Lieutenant Colonel Ludlow at Fortress Monroe, Virginia:
Washington, July 15, 1863

Colonel Ludlow, Agent for Exchange of Prisoners of War:

The President directs that you immediately place General W. H. F. Lee and another officer selected by you not below the rank of captain, prisoners of war, in close confinement and under strong guard, and that you notify Mr. R. Ould, Confederate agent for exchange and prisoners of war, that if Capt. H. W. Sawyer, First New Jersey Volunteer Cavalry, and Capt. John M. Flinn, Fifty-first Indiana Volunteers, or any other officers or men in the service of the United States not guilty of crimes punishable with death by the laws of war, shall be executed by the enemy, the aforementioned prisoners will be immediately hung in retaliation. It is also directed that immediately on receiving official or other authentic information of the execution of Captain Sawyer and Captain Flinn, you will proceed to hang General Lee and the other rebel officer designated as hereinabove directed, and that you notify Robert Ould, Esq., of said proceeding, and assure him that the Government of the United States will proceed to retaliate for every similar barbarous violation of the laws of civilized war.

H. W. Halleck,
General-in-Chief
Like Henry Sawyer, Brig. Gen. W.H.F. "Rooney" Lee, the second son of Gen. Robert E. Lee, received two serious combat wounds at Brandy Station. One was a saber cut, and the other, more serious, was a gunshot wound to the leg that narrowly missed the tibia and the main artery. He was taken to Hickory Hill, the Wickham family home, in Hanover County, Virginia, to recuperate. A task force of more than 1,000 Federal cavalrymen, stationed near Yorktown, Virginia, raided deep into Hanover County and seized Rooney Lee from his father-in-law's house on June 26, 1863. Col. Samuel P. Spear of the 11th Pennsylvania Cavalry, commander of the task force, whom Lee knew from the pre-war Regular Army, refused Lee's request to be paroled, and the Confederate general became a prisoner of war. He was taken to Fortress Monroe and held there, and soon became a pawn in the great game of human chess that also involved Henry Sawyer.
Immediately after receiving this telegram, Ludlow had Rooney Lee placed in close confinement in a dungeon at Fortress Monroe, where Capt. Robert H. Tyler of the 8th Virginia Infantry, a prisoner of war being held in Old Capitol Prison in Washington, D. C., drawn by lot, joined him the next day. This action saved the lives of Sawyer and Flinn. Ludlow then informed Ould what had occurred, and what the new policy of the United States Government would be. As one Union officer commented that the Union high command had rightly surmised "that the influential connection of these two officers in the Confederacy would prevent the threatened execution of the Union captains who had drawn their death warrants in the dreadful lottery in which they had been compelled to take tickets."
After remaining in the dungeon until August 16, 1863, they were relieved and placed back in with the general prisoner population on the same footing as the other prisoners, even though the Richmond newspapers continued to claim that the two Yankee captains would be executed.
On November 13, Lee was transferred to Fort Lafayette in New York Harbor. Captain Tyler joined him there a month later. Finally, in February 1864, the Confederate authorities proposed an exchange that was acceptable. Lee and Tyler were to be exchanged for Brig. Gen. Neal Dow of Maine, who was the highest-ranking Union officer in captivity, Sawyer, and Flinn. Lee and Tyler were transferred back to Fortress Monroe in anticipation of their exchange. Finally, on March 14, the exchange was completed, and the prisoners returned to their respective commands.
"The satisfaction with which Captain Sawyer once more walked forth a free man, and found shelter under the Old Flag, was such as only a man coming from death unto life–from dismal bondage into joyous and perfect liberty–can ever experience, and none other, certainly, can appreciate," noted Dr. C. E. Godfrey, an early biographer of Sawyer.
Upon the recommendation of Col. Sir Percy Wyndham, Sawyer was commissioned major of his regiment on March 22, 1864, to date to October 12, 1863, and received his commission from Gov. Joel Parker that day in the State House at Trenton. He then proceeded to his home in Cape May on furlough. He was mustered in as major at Washington, D.C. on August 31, 1864, and immediately re-joined his command, with which he continued until the regiment was mustered-out and honorably discharged at the close of the war at Vienna, Virginia, on May 24, 1865. He suffered two more minor combat wounds at the Second Battle of Kernstown, Va. After his recovery he was stationed at U. S. Cavalry Headquarters in Washington, D. C. as an inspector of horses.
After the close of the war he was breveted lieutenant-colonel by United States Commission, and remained in that position until September, 1865, when the regiment was discharged. At the close of the Civil War, the ranks of the Regular Army being recruited up, he was offered by Edwin M. Stanton, Secretary of War, having been recommended by a division officer, a lieutenantcy in the regular army, which position he declined. During the time that he was in the field he received six combat wounds, two of which were of a serious character. One ball he carried in his body until he died.
Major Sawyer immediately returned to his home in Cape May, and in 1867, became proprietor of the Ocean House in that lovely summer resort town. He operated the Ocean House until April 1873, when he moved to Wilmington, Delaware and became proprietor of the Clayton House. In 1876, he returned to Cape May and built the Chalfonte Hotel, which he owned and operated for many years. He was for a number of years a member of the Cape May city council, and was at one time Superintendent of the United States Life Saving Service for the coast of New Jersey. He was also a member of the New Jersey State Sinking Fund Commission from 1888 to 1891. He died suddenly of heart failure at Cape May on October 16, 1893, and was buried in Cold Spring Presbyterian Cemetery in Cape May.
Here's to forgotten cavalryman Henry Washington Sawyer, a pawn in the great game of politics that underlay the American Civil War.
Scridb filter