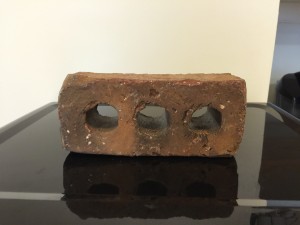 A nifty gift just arrived in the mail from my friends at the Civil War Trust. It's a brick. And I'm thrilled to have it.
You might ask, why? What's so exciting about a brick?
This brick comes from Tony Troilo's McMansion that blighted Fleetwood Hill for far too long. When the house was demolished, I asked that the Trust save me a single brick from the house as a souvenir of the fight to save Fleetwood Hill, and this is that brick. I have the perfect place for it in my home office, and every time that I look at it, I will smile, because of what it means. Its presence in my home office means that the McMansion no longer blights Fleetwood Hill, and that the view from Fleetwood Hill is once more unfettered.
So, you see, this is not just some ordinary brick. It's a very special brick, bought and paid for by the blood of the soldiers who fought, bled, and died on Fleetwood Hill, and by the folks who donated the money to make the acquisition and demolition of the McMansion on Fleetwood Hill possible. And because it's a very special brick, it will forever occupy a special place in my heart and in my home office.
Scridb filter