With many thanks to Clark B. "Bud" Hall, who not only provided me with these two images, Bud was also the one who identified the historic image as being of Fleetwood Hill when it had been mislabeled for years as being a camp in other locales.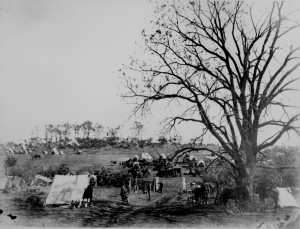 The first image was taken in the fall of 1863. Here's what Bud had to say about it:
The view is north, and this is the attack perspective of the 1st Maryland Cavalry as Wyndham's Brigade attacked Fleetwood on June 9.

The house was "Fleetwood," built in the 1700's by John Strode, and was in 1863 the tenant home of farmer Henry Miller. The fruit orchard visible in the '63 image was destroyed (for firewood) during the winter encampment of the Army of the Potomac, 63-64. During that winter, the Miller home would be the headquarters of Maj. Gen. William French, 3rd Corps.

The road in the center of the '63 image is easily discernible today as it leads to Brandy Station Station, a half mile away, and behind the photographer.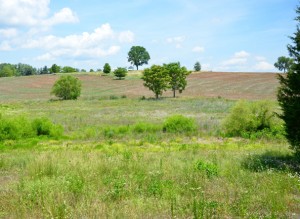 The modern image was taken on June 1, and is exactly the same view and perspective. The small structure that looks like a gazebo is the historic well on the crest of Fleetwood Hill, which is enclosed to prevent folks from falling in.
It bears repeating that the view of Fleetwood Hill, unfettered by the McMansion on the hill, is a thing of beauty to be treasured.
To see larger versions of either of these two images, please click on them.
Scridb filter