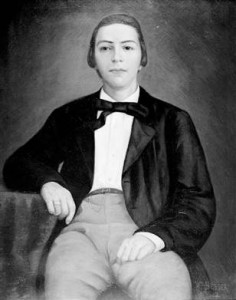 The following article appeared on MSNBC today:
Plan to honor teen Confederate spy splits Ark. town
David O. Dodd was barely 17 when he was hanged in January 1864

By JEANNIE NUSS

updated 10/14/2012 2:55:32 PM ET

LITTLE ROCK, Ark. — The story of David O. Dodd is relatively unknown outside of Arkansas, but the teenage spy who chose to hang rather than betray the Confederate cause is a folk hero to many in his home state.

Street signs and an elementary school in the state capital have long borne Dodd's name, and admirers gather at his grave each year to pay tribute to Dodd's life and death.

"Everyone wants to remember everything else about the Civil War that was bad," said one of them, W. Danny Honnoll. "We want to remember a man that stood for what he believed in and would not tell on his friends."

A state commission's decision, though, to grant approval for yet another tribute to Dodd has revived an age-old question: Should states still look for ways to commemorate historical figures who fought to defend unjust institutions?

"(Dodd) already has a school. I don't know why anything else would have to be done to honor him," James Lucas Sr., a school bus driver, said near the state Capitol in downtown Little Rock.

Arkansas' complicated history of race relations plays out on the Capitol grounds. A stone and metal monument that's stood for over a century pays tribute to the Arkansas men and boys who fought for the Confederacy and the right to own slaves. Not far away, nine bronze statues honor the black children who, in 1957, needed an Army escort to enter what had been an all-white school.

"He was barely 17 years old when the Yankees hung him" on Jan. 8, 1864, Honnoll said. "Yeah, he was spying, but there (were) other people that spied that they didn't hang."

Dodd is certainly not the only teenager to die in the war or even the lone young martyr, said Carl Moneyhon, a University of Arkansas at Little Rock history professor.

"If you start talking about the 16-, 17- and 18-year-olds who were killed in battle, the number is infinite," Moneyhon said. "There are tens of thousands of them. They become unremarkable."

So it seems all the more curious that some have come to portray Dodd as Arkansas' boy martyr.

"It's part of the romanticizing of the Civil War that began in the 1880s and the 1890s, that looks for … what could be called heroic behavior to celebrate in a war filled with real horrors," Moneyhon said.

And it's caught on, though many question why.

"It's a very sad story, but at the end of the day, Dodd was spying for the Confederacy, which was fighting a war to defend the institution of slavery," said Mark Potok, a senior fellow at the Southern Poverty Law Center.

Sharon Donovan — who lives on West David O. Dodd Road (there's an East David O. Dodd Road, too) — said she wouldn't mind another Dodd namesake in her neighborhood.

"The fact that we live in the South, I could understand why he would want to do it because he was actually working for us in a way. … For that era, I think it was probably a noble thing to do," Donovan said.

About a half-mile away, a banner outside an elementary school proclaims, "David O. Dodd Committed to Excellence." A doormat bearing Dodd's name shows a black boy smiling next to a few white ones. About half of the school's 298 students last year were black and only 27 were white.

Jerry Hooker, who graduated from Central High School years after the desegregation standoff over the Little Rock Nine, lives at the site where he says Dodd was detained almost a century and a half ago. The Arkansas Civil War Sesquicentennial Commission approved his application and agreed to chip in $1,000 for the marker noting the spot's historical significance.

Hooker, 59, said the move to commemorate Dodd is not about honoring slavery, but about remembering the past.

"I don't think it has a thing to do with race whatsoever," Hooker said. "He was a 17-year-old kid with a coded message in his boot that had enough of whatever it is in him that he didn't squeal on his sources."

Still, in a city that stripped "Confederate Blvd." from its interstate highway signs shortly before dignitaries arrived in town for the opening of Bill Clinton's presidential library, the question remains: Should Dodd's name be etched into another piece of stone or metal for posterity's sake?

"There are currently more monuments to David O. Dodd than any other war hero in Arkansas," Potok said. "You would think that at some point it would be enough."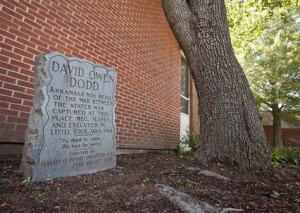 This debate is a microcosm of the ongoing debate of just how prominent should Confederate history be. Kevin Levin, Brooks Simpson, and Corey Meyer have done a superb job of documenting some of the outrageous and really silly things that a lot of the advocates for so-called "Southern Heritage" (whatever that might be) claim (for what Brooks Simpson describes as "the gift that keeps on giving", look here).
What role should these Confederate heroes continue to play in modern society? This is a real hot button question due to the racial implications that arise for those large elements of society that equate the Confederacy with the abomination of slavery, and who, rightly or wrongly, consider anyone who supported the Confederacy a racist. What role should the Confederate flag play in modern society, given its implications as a symbol of the perpetuation of the institution of slavery? Is it appropriate to honor someone who died in the service of a rebellion against the United States government?
I have many friends with Confederate ancestors, and I understand their desire to honor the sacrifices made by their ancestors. At the same time, I have no time for, or sympathy for, anyone who says that heritage is more important than accurate history, as our friends at the gift that keeps on giving like to say. They lash out at anyone whom they think has somehow denigrated their "heritage" (again, whatever that means) in particularly violent and unpleasant rhetoric (which I expect them to do as a result of this post, not that I care a whit). Many of them are neo-Confederates and/or Lost Causers, and they use these red herring arguments to push their own twisted political agendas. They denigrate what they call "political correctness", but the reality is that one man's symbol of "heritage" is another man's symbol of slavery. How do we strike that balance?
I don't have a good answer to the big question. I don't think anyone does. However, I view this specific question as one of local politics, and if a majority of the people in the town believe that paying further tribute to David O. Dodd is appropriate, then that's their business.
Sooner or later, though, we as Americans will need to reconcile these issues, because they will not go away any time soon. It's a dialogue that we as Americans need to have, but how to do so without it denigrating into personal attacks is the mystery that needs to be resolved before it can happen. Let's hope that we can figure out the answer to that problem sooner than later.
Scridb filter