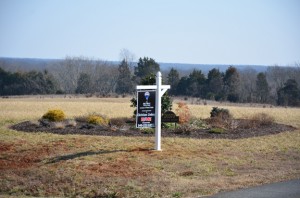 Part of what I've been trying to accomplish has been to shame the useless board of the Brandy Station Foundation into doing something to try to preserve Fleetwood Hill, because it's quite clear that without it, Joseph McKinney and the board of appeasers weren't about to do anything.
The following statement now appears on the BSF website:
Dear Members and Friends of the Brandy Station Foundation,

If you have driven on Highway 29 north of Brandy Station recently, you may have noticed the large "FOR SALE" sign on the southern slope of Fleetwood Hill. I believe it is now appropriate for us to share with you what is going on and the role that we are playing. Up until yesterday, this was not our story to tell; it was between the landowner and the Civil War Trust. However, yesterday the landowner, Mr. Tony Troilo, urged that I inform you of events. While it is the Civil War Trust's long-standing policy to not discuss private negotiations with landowners, we have advised the Trust's staff that we are sharing the following information with you.

On November 29, 2011, Tony asked that I come by his house and speak with him. Tony is a long-time member of the BSF and his father, Joe Troilo, Sr., was one of our founding members. Tony and his family own the most fought-upon portion of Fleetwood Hill—a priority for preservationists everywhere. At our meeting that morning, Tony informed me that he and his wife had decided to sell their Fleetwood Hill property and build a new home on land they own elsewhere in Culpeper County. Their asking price for the entire Fleetwood Hill property—fifty-seven acres, two homes, and a Morton-type equipment building—was approximately $5 million. Tony said that he would wait thirty days before putting the property on the market to allow us time to prepare an offer.

I told Tony that his asking price was beyond the means of the BSF. For comparison purposes, our largest land purchase was in December 2005 when we bought 18.9 acres from Golden Oaks Development for $560,000—and I can tell you that it was very difficult for us to raise that amount. However, I informed Tony that I would immediately contact the Civil War Trust and relay to them the terms he was asking. I also emphasized that we, the BSF, would support the Trust in any way that we could to complete this sale. Later that morning I called my point-of-contact at the Trust and notified him of developments. I followed-up that day with an email. I also notified the BSF board of directors of what had taken place and that there was a possibility that Fleetwood might be brought under protection.

The Trust, which has been interested in Fleetwood Hill for many years, immediately began working the issue and conducting necessary due diligence. However, agreement on the terms of the sale was not reached and on January 11, 2012, the main house and fifteen acres were listed with a local real estate agent. The listing price is $2,450,000. Despite this initial inability to reach an agreement, both the Trust and BSF remain in communication with the landowner. That is where we stand today. You may find out more information about the house by going to http://www.realtor.com/realestateandhomes-detail/20370-Fleetwood-Heights-Rd_Brandy-Station_VA_22714_M58347-90378?ex=VA549371810&source=web. The second home on its parcel, and three unimproved parcels may be sold either with the main home and its fifteen acres, or separately after the main home sells.

Our long-term goal has always been—and remains—to bring all of Fleetwood Hill under protection. We will continue to work diligently with the Trust to reach a mutually acceptable agreement with Mr. Troilo. We at BSF are continuing to monitor events closely, and stand ready to assist the Trust in any way whatsoever. We and the Trust fully understand the historical importance of Fleetwood Hill, and that we have been presented an opportunity that may not come again. I pledge to you that we will do everything we can to ensure that this opportunity does not slip away.

Sincerely,

Joseph W. McKinney
President, Brandy Station Foundation
Talk about a wishy-washy statement filled with lies and misrepresentations….
The BSF is charged with preserving this battlefield, and it's certainly supposed to be its steward. So far, and per the express admission of its president, its sole role has been to have coffee with Mr. Troilo and hand the matter off to the Civil War Trust. And then, McKinney, who has amply demonstrated that he's no leader, has the unmitigated gall to criticize the Trust. No definition of leadership that I have ever seen says that it's good leadership to shift the responsibility of stewardship, which should be held on the local level, to a national organization and then just sit back and do nothing as McKinney and the BSF have done.
The entire hill has been for sale since January 2012, and McKinney has only now deigned it important enough to tell his membership about it 7 months later, and had we not shamed him into doing so, I would guess that he would not have said a single word about it publicly. This most assuredly is NOT a new opportunity to try to preserve Fleetwood Hill, and it's a lie to claim it is.
His release also falsely states that there was some agreement with the Trust not to discuss this. I can tell you that there was no such agreement whatsoever, and that he would have been free to say something about trying to save Fleetwood Hill the moment that the "for sale" sign went up. How could it have been a secret since, as the photo (click on the photo to see a larger version of it) from early February shows, there has been a "for sale" sign on the property since January? This is a lie by McKinney, pure and simple, intended to cover up his malfeasance. Don't believe it for even a second.
Let's also observe this man's outrageous hypocrisy. He states, "Tony and his family own the most fought-upon portion of Fleetwood Hill—a priority for preservationists everywhere." If what says is true–that preserving the fought-over portion of Fleetwood Hill should be a priority for preservationists everywhere,–then where was he when Tony and his family devastated Fleetwood Hill with bulldozers to build the illegal Lake Troilo???? The hypocrisy is absolutely staggering.
Please see this lame statement for what it is, friends: a lame attempt to justify the failure of McKinney and the board of appeasers to do anything to preserve Fleetwood Hill that implicitly criticizes the Trust for not making a deal after they passed the buck and abrogated their duty. And that's not just wrong, it's cowardly.
Mr. McKinney and your do-nothing board: either lead, follow, or get out of the way. This very lame statement of yours plainly admits that you are incapable of leading in your own words, and you refuse to follow. Do us all a favor and get out of the way before you render the BSF even more irrelevant and impotent than you already have. There is more to your stewardship of the battlefield than the Graffiti House, relic hunting, and the ghost hunting that you bragged about in your 2011 report.
Scridb filter