It's been a while since I have given you an update on the status of Fleetwood Hill, and I'm pleased to announce that there's good news, better news, and an immediate challenge that issues as a result.
Should you wish to do so, you can see larger versions of the two photos included in this post by clicking on them.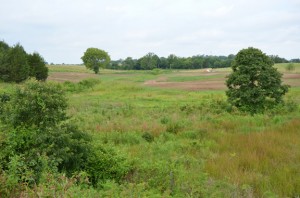 First, here's an update on the damage done by the construction of Lake Troilo. This photo, taken this past weekend, shows that the dam is gone, and so is the lake-to-be. Most importantly, Flat Run has returned to its original configuration. Sadly, the damage done can never be fully repaired. The ground has been disturbed, including relics and human graves, and that bell cannot be unrung. But for the intervention of Bud Hall, this damage would have become substantially worse, as neither Joseph McKinney nor the board of appeasers of the Brandy Station Foundation were about to do anything to stop it.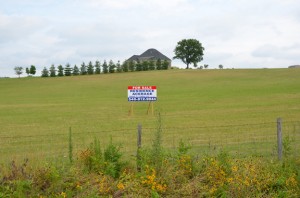 The better news is that the owner of Fleetwood Hill (and the hideous McMansion that sits atop it) has decided to sell the property. The photo to the right shows the "For Sale" sign (complete with the misspelling of the word "acreage') on that property. Let's be very clear about this: this parcel of ground is, without any doubt, the single most fought-over, most marched-over, and most camped-over piece of ground in the United States. There were four major cavalry battles fought on this very parcel of land. There is no other parcel of ground presently available anywhere in the country more important than this one. Please see Bud Hall's excellent history of Fleetwood Hill, which can be found here, to understand what makes this piece of ground so unique and so important.
Fleetwood Hill represents the most important single historic feature on a battlefield whereupon about 1800 acres have already been saved. Should we not buy this 50 acre parcel that would serve as the preservation capstone to more than two decades of blood, sweat, and tears expended to save existing Brandy Station?
While the fact that the owner is ready to sell the property is extraordinarily good news, it presents a real challenge. I have heard absolutely nothing about McKinney or the board of appeasers of the Brandy Station Foundation doing the job they were elected to do by trying to put together some creative financing deal to purchase what constitutes "ground zero" of the Brandy Station battlefield and remove that hideous eyesore that sits on the crest of the hill. Given the fact that neither McKinney nor his board care a whit about preserving the battlefield–their track record, or, more accurately, lack of a track record amply demonstrates this fact–we have no reason to expect that they will do anything at all to put together a plan to buy and preserve this piece of ground. Maybe they will surprise me, but I'm most assuredly not holding my breath while sitting by waiting for them to fulfill the sacred duty they swore to perform.
And I have not heard anything about the Civil War Trust engaging to negotiate a contract to purchase this piece of land. This is not to criticize the CWT–my record of supporting its efforts for nearly two decades speaks for itself, and there is no organization doing a better job of preserving battlefields than it has. However, it is not moving with any alacrity, and the threat exists that this parcel of ground could be lost before it gets something in motion.
Therefore, I issue a challenge to all of you: who will help me to develop a plan to purchase Fleetwood Hill and preserve the most fought-over piece of land in the United States? This window of opportunity will not remain open for long, and we need to move quickly to take advantage of it. I welcome any and all suggestions and contributions that any of you may wish to offer.
Scridb filter