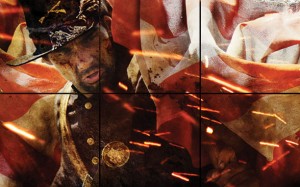 I suffered through 45 minutes of Gettysburg on the History Channel last night. With brothers Ridley and Tony Scott as directors and producers, I had high hopes for this production. The Scotts are two of my very favorite directors, and they are known for the quality of their productions.
What a staggering disappointment this thing was. I turned it off after 45 minutes because I couldn't take another moment of it. This thing was shockingly bad. Events were presented horribly out of context, with absolutely no stage setting. The movie begins with the Iron Brigade's advance to the unfinished railroad cut and without any context for the viewer to understand how they got there or why they were there. It would have confused anyone without a decent working knowledge of the battle.
I counted ten major factual inaccuracies in the first ten minutes of the thing. And it got worse from there. Just a few of the things wrong with this production–and this is FAR from a comprehensive list:
1. The terrain was completely wrong. Since when were segments of the Gettysburg battlefield covered with thick forests of pine trees?
2. The sets were awful–fence lines were wrong, the buildings were wrong, and the depiction of the town itself was completely wrong. The unfinished railroad cut on McPherson's Ridge was portrayed as being only three or four feet deep when it's really as deep as thirty feet at its deepest.
3. They had the Iron Brigade digging deep trenches atop Culp's Hill on the night of July 1–not crude breastworks like those actually built on the night of July 2, but rather the sort of deep, semi-permanent trenches with head logs that one expects to see on the Petersburg battlefield. And they were using brand-new, shiny shovels and pick axes that looked like they still had the Lowe's or Home Depot price stickers on them, not period tools. They never did mention Greene's brigade either….
4. The uniforms and many of the weapons were wrong, and few, if any, of the actors looked like the people they were portraying. I just loved the yellow cavalry stripes on the infantrymen. That was my favorite.
5. The history was largely wrong. As just one example, none of John Buford, John Reynolds, Henry Heth, or A. P. Hill were even mentioned at all during the discussion of the first day. Instead, the first day focused on Rufus Dawes–you would think that the 6th Wisconsin alone captured the Confederates in the railroad cut and that no other units were involved.
6. I turned it off just as the second day's portrayal began. I'm told that the focus was on William Barksdale and that there was no mention of Little Round Top or of Joshua Chamberlain or the 20th Maine's defense.
I feel badly for Garry Adelman and Prof. Peter Carmichael, who were interspersed as talking heads. They presented the history accurately and correctly, and lent some credibility to this thing, but yikes–now they will be associated with this piece of crap. Pete and Garry are both good guys and very capable and accomplished historians, and I sincerely hope that their association with this terrible program doesn't sully their reputations.
There's plenty more, but that will give you a taste. I'm so disappointed in this that it's shocking. What's even more concerning to me is that novices will think that this piece of dreck is an accurate depiction of the battle and that they will find out just how terribly wrong it was and lose interest because of it. On the other hand, if it spurs interest, then I guess it's a good thing, but it nevertheless shows how far the History Channel has fallen.
Awful. Just appallingly, horrifyingly awful. Do yourselves a favor–don't waste a minute of your time or a brain cell on this piece of crap. It's not worth either.
Scridb filter