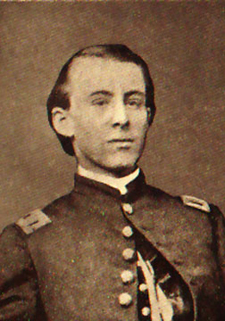 Time for another in my infrequent posts on forgotten Union cavalrymen. Today, we're focusing on a little-known officer who commanded an even more obscure unit. Erastus Blakeslee was born to Joel and Sarah Marie Mansfield Blakeslee in Plymouth, Connecticut on September 2, 1838. He attended the Williston Seminary at Easthampton, Massachusetts for his college preparatory studies, and entered the freshman class at Yale University in the fall of 1859. He was on his spring vacation in 1861 when the Confederates fired on Fort Sumter, and he was one of the first from Plymouth to enlist in response to President Lincoln's call for volunteers.
He enlisted in Company A of the 1st Battalion Connecticut Cavalry Volunteers on October 9, 1861. Nine days later, he was commissioned second lieutenant in the same company. On November 26, just over a month later, he was promoted to first lieutenant and was appointed regimental adjutant. On February 28, 1862, he was promoted to captain of Company A, which he commanded in the field.
On July 14, 1863, he was promoted to major, and assumed command of the regiment. On May 21, 1864, he was promoted to lieutenant colonel, and six days later, was promoted to colonel in a remarkably rapid rise. He went from private to colonel in two-and-a-half years. He was wounded in battle at the Battle of Ashland, Virginia on June 1, 1864, and returned to duty in time for the 1864 Shenandoah Valley Campaign. He mustered out on October 26, 1864 upon expiration of his term of service. Blakeslee was brevetted to brigadier general of volunteers on March 13, 1865 for gallant conduct at Ashland, Va. on June 1, 1864. "He was a brilliant fighter," observed one writer. "The General is the idol of his old regiment."
Although the 1st Connecticut is a not a well-known regiment, it was engaged in a great deal of fighting during the Civil War. The State's first cavalry regiment was organized as a battalion under Maj. J. W. Lyon in September 1861, and became a full regiment under Col. William S. Fish in November. It was sent to western Virginia to fight bushwhackers in March, 1862.
In the winter of 1862-1863 the regiment moved to Baltimore, Maryland for reorganization, and was serving there during the Gettysburg Campaign as part of the forces assigned to the Middle Military District. It moved to Harper's Ferry, W. Va., July 5, 1863, and skirmished with southern cavalry in that vicinity until January, 1864.
After Blakeslee was promoted to colonel, the regiment became part of the Third Cavalry Division, Cavalry Corps, Army of the Potomac, fighting throughout the Overland Campaign, including at the Wilderness, Todd's Tavern, Yellow Tavern, Meadow Bridges, throughout the Wilson-Kautz Raid, and then served in Sheridan's Shenandoah Valley Campaign from August to December 1864, fighting at Tom's Brook and Cedar Creek. It then participated in Lee's retreat from Petersburg, including fighting at Sailor's Creek. The 1st Connecticut escorted Lt. Gen. Ulysses S. Grant to receive Lee's surrender at Appomattox. The 1st Connecticut suffered 772 casualties during the war, representing 56% of its strength.
Blakeslee was also an inventor. With the advent of the Spencer repeating carbine, Blakeslee realized that his troopers would run out of ammunition quickly unless they had a way to carry large quantities of ammunition available to them. Blakeslee addressed this problem by designing the "Blakeslee Box", which held ten ammunition tubes for the Spencer, meaning that each trooper could carry 70 rounds in tubes, ready to be loaded. More than 10,000 Blakeslee Cartridge Boxes were manufactured and distributed to the Federal cavalry during the course of the Civil War.
After the war, Blakeslee engaged in business in New Haven, Connecticut and then in Boston. In 1876, he resumed his studies, attending and graduating from Andover Theological Seminary. After graduating from there in 1879, he held Congregational Church pastorates in New Haven, Connecticut and Spencer, Massachusetts. While in Spencer, he became interested in an effort to improve the methods and result of Bible study in Sunday schools and among young people, and set about developing a system of study. In the summer of 1892, he resigned from his pastorate and moved to Boston, where he devoted his efforts to developing further improvements in the methods of Bible study.
He published numerous works on the Bible, including a nine-part study titled The Gospel History of Jesus Christ, that were translated into ten different languages, and were used in nearly all of the evangelical denominations in North America.
General Blakeslee lived the rest of his life in the Boston area, where he was active in veterans' affairs, and regularly attended reunions of his old regiment. "At such times the Custer tie is the dominant color in the old cavalry organization," noted a reporter in 1895.
He died July 12, 1908, and was buried in Walnut Hills Cemetery in Brookline, Massachusetts. He is one of the few officers to rise from private to colonel and regimental command. His genius led to the development of his cartridge box, and he then devoted his life to preaching the gospel. Here's to Erastus Blakeslee, forgotten cavalryman.
Scridb filter