I am deeply grateful to Chris Dixon, of Bridlington, East Yorkshire, England. Chris owns and operates a business selling old military medals. Chris has Dave Day's Medal of Honor for sale. He was kind enough to forward the photos of the medal that appear here, as well as some more really useful material about Dave Day. Thank you, Chris.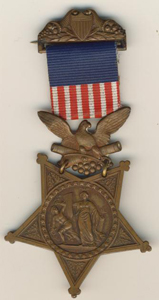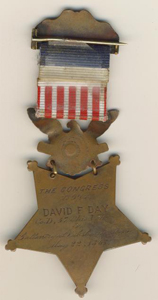 I now know that Dave was married March 10, 1870 to Victoria Sophia Falck, the 13th child of a wealthy Southern plantation owner and slaveholder. "Her engagement to Northerner Day caused consternation not only to her family but also the three other young men to whom she was simultaneously engaged. Gallant to the core, all her former beaux sat in the front pews at the church wedding, later serenaded the happy couple and refreshed themselves with five gallons of wine." The Days had five children: Stanley, Roderick Seely, Gerald Letcher, George Vest, and Vic "Nona" Lenore, all of whom were born in Missouri, and another two, born in Colorado, who died in infancy. Mrs. Day lived until 1940.
Dave Day used to refer to himself as the Philosopher. What a hoot.
Day's own legend was that he ran away from home at an early age to escape a cruel stepmother who wanted to force him to go to school, so he enlisted in the Union army at 15. Supposedly, he was illiterate at the time and unable to write his own name. Day claimed that, as a result of his valor, a commanding general had him tutored in reading and writing.
The following appeared in a 1971 tribute to his newspaper, The Solid Muldoon: "His post-war career in Missouri as a grocer ended in bankruptcy when he co-signed a note for a friend. Married and the father of five, he struck out for Colorado with a friend, Jerrold Letcher, who helped him set up the newspaper in Ouray, then took up the practice of law. The one and only Solid Muldoon flourished in Ouray from 1879 to 1892 when, with a $25,000 inducement, the paper was moved to Durango. Historians have some interesting speculations as to the source of the money. Day's career in Durango was highlighted on May 18, 1903 when he and a rival editor exchanged 13 shots at a distance of eight to fifteen feet. Day was unscathed, the rival receiving a slight flesh wound. In 1893, Day founded the Durango Weekly Democrat and was appointed by President Cleveland as Indian agent for the Southern Utes. His son-in-law, Thomas Tulley, was publisher of the Democrat from 1900 to 1912, when it reverted to Day and a son, Roderick S." (emphasis added)
Evidently, son Rod had a real precedent for his fatal showdown with the rival editor mentioned in my last post on Day. Thanks to Teej Smith for digging and finding out that Rod was acquitted of murder.
Sadly, Dave Day lay in an unmarked grave for decades, although I'm not sure how that happened. When the tribute to the Solid Muldoon was published in 1971, it stated, "His grave is still unmarked, which troubles many of his admirers, but is hardly likely to bother a man who wrote of death as 'ascending the golden clothes pole.'" Fortunately, this has been corrected. According to his listing on Find-a-Grave, his resting place is marked by a simple veteran's stone designating his status as a holder of the Medal of Honor.
Day's grandson, Tom Tully, was an Academy Award-nominated actor. Tully, who had a very long career as an actor, received an Oscar nomination for his portrayal of Commander DeVriess in the movie version of The Caine Mutiny, which starred the great Humphrey Bogart. Tully himself has an interesting story. He started out in the family business as a reporter in Denver, then served in the Navy. He took up acting because he thought it paid better than journalism or the Navy. From his profile on IMDB: "While in Vietnam entertaining troops with Bob Hope and others with the USO, Thomas Tully protracted a filarial worm, similar to the worm that causes elephantiasis. After returning to the U.S. his condition was diagnosed after a blood clot in a major vein in his leg cut off circulation and his leg was amputated very close to the hip. This was circa 1971. The amputation was performed in Laguna Beach, California close to his home in San Juan Capistrano. Complications to this surgery caused pleuritis, deafness and serious debilitation. His death was due, in great part, to these serious medical conditions. He should be remembered as a patriot who sacrificed his life to entertain our troops in Vietnam." Tom Tully spent the rest of his life gathering information on his interesting grandparents in the hope of writing a biography, but he died in 1982 before he could complete the project.
Too bad. I would love to read a full-length biography of this fascinating and colorful figure. Thanks again, Chris Dixon.
Scridb filter