Here's the other profile I promised last week, of one of the most colorful cavalrymen of the Confederacy.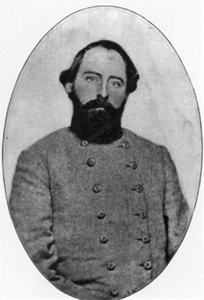 Gilbert Jefferson Wright was born in Lawrenceville, Georgia, on February 18, 1825 as the son of Littlebury and Henrietta (Austin) Wright. He was educated in the local schools of the county and grew to be a giant of a man at 6'4' tall. His friends called him "Gib", a nickname that stuck with him for the rest of his life. "A man of social and convivial tastes, in his youth, he fell into bad habits and, during one of his drinking bouts, was so unfortunate to kill one of his comrades," recalled a biographer. He was acquitted of murder.
When the Mexican War broke out in 1846, he enlisted as a private in Company A, 1st Georgia Infantry. He fought in several battles and received a severe neck wound. Although he returned to duty with his regiment after a period of recuperation, he suffered from a painful stiff neck for the rest of his life. When the war ended, Wright returned to Georgia, read law, and joined the bar in 1848, quickly building up a large and lucrative practice. "In no sense an orator, he was a laborious lawyer, a man of vigorous intellect and of untiring energy, and was able always to present his views with distinctiveness, clearness and force," recalled an observer. He married Dorothy Chandler on February 19, 1850 in Carroll County, Georgia.
Wright helped to organize the Albany Hussars, which eventually became Company D of the Cobb Legion Cavalry in 1861 and was appointed a lieutenant. He served in all of the campaigns of the Army of Northern Virginia until 1865, reportedly serving in more than 100 engagements. Wright as promoted to captain in 1862 and to major on June 9, 1863 at the Battle of Brandy Station. He was wounded in battle several times, including during the Battle of South Mountain on September 14, 1862, earning the respect of his brigade commander, Wade Hampton. He was wounded again on August 3, 1863. His obituary in the Atlanta Constitution stated, "He was seriously wounded several times, but before his wounds ever healed he would be again on the field of battle fighting with matchless valor."
A couple of anecdotes go a long way to demonstrating his nature. At the Battle of Quebec Schoolhouse in September 1862, he received a severe wound to the foot, which bled heavily. He realized that if he stayed mounted, he would bleed to death quickly. Wright dismounted, was laid on his back, and with his foot hoisted about three feet above his prone body, he remained in command of his troops, calling out orders. "Give 'em hell, boys! give 'em hell for they shot my foot!" He remained there until the battle ended.
During the Gettysburg Campaign, as the Cobb Legion entered a small town, a scared courier dashed back warning that the Yankees were advancing down the same road. "Tell 'em I'm traveling this road myself, and if they don't get out of the way, hell will be to pay," replied Wright. A few minutes later, he met the Yankees and charged them, routing them, and capturing a number of prisoners. Such was his command style.
On October 9, 1863, Wright was promoted to colonel of the Cobb Legion Cavalry and assumed command of his brigade when Brig. Gen. Pierce M. B. Young was transferred to command the North Carolina cavalry brigade. Wright was badly wounded again on May 30, 1864. Gib Wright led the brigade, consisting of the Cobb Legion, Phillips Legion, Jeff Davis Legion, and the 7th Georgia Cavalry at intervals throughout the rest of 1864. His brigade bore much of the brunt of the first day's fighting at the June 11-12, 1864 Battle of Trevilian Station, where he drew the praise of Wade Hampton.
In January 1865, when the brigade was transferred to South Carolina, he assumed permanent command of the brigade, leading it in combat at the March 10, 1865 Battle of Monroe's Crossroads, where his Georgians suffered heavy casualties, and then again at Bentonville nine days later. Wright was apparently promoted to brigadier general during the war's final months, but he never received the commission.
He had promised his men that they would not be surrendered against their will, but Wright was unable to deliver on the promise. Gen. Joseph E. Johnston surrendered Wright's brigade at the Bennett Place near Durham, North Carolina, on April 26, 1865.
His commander and mentor, General Young, said "this office has proved his gallantry on many fields." J.E.B. Stuart called him "a most competent officer." According to one of his troopers, Wright's "unique personality, vigorous intellect and untiring energy made a remarkable impression upon all with whom he came into contact." Though not a professional soldier, Wright possessed a "bulldog courage" and "stentorian voice" that were conspicuous in battle. A South Carolina horse soldier described him as a "stern old warrior."
The war over, he returned home to Albany and resumed his practice of law, forming a partnership with a friend. "For some years this firm did the leading law practice of Southwest Georgia, and were retained in most cases of importance, whether civil or criminal, both in the State and Federal Courts," noted Wright's biographer. A Democrat and opponent of Reconstruction, he was elected mayor of Albany in 1866, holding office until 1869. While serving as mayor, he and some friends engaged in some game of chance that violated city ordinances. Wright, the city councilmen, and all others involved in the game were arrested. The next day, Wright made each of his partners in crime stand up and accept a fine of $10 for violating an Albany city ordinance. When his own turn came, he called his name three times, stood up, and assessed himself a fine of $20 that he then paid to the court clerk.
From 1875 to 1880, he served as judge of the Albany Circuit, filling "the place with fidelity and with distinction." His health failing, Wright retired in 1880 and moved to Monroe County, Georgia, where he farmed until his death at Forsyth, Georgia, on June 3, 1895. "The news of Judge Wright's death will carry the deepest sorrow to the hearts of his friends all over Georgia," noted his obituary. "He was, a few years ago, regarded as one of the ablest lawyers at the Georgia bar." He was buried in Oakland Cemetery in Forsyth. He was 70 years old and had led an active and infinitely interesting life.
His biographer summed him up nicely:"Notwithstanding his many peculiarities and conflicting traits of character, General Wright was one of the most influential men in South Georgia and a leader in everything that was calculated to do good to his section of the State. On the Bench he was a man of rigid integrity; enforced the law without regard to persons; and his record while in that position showed that whatever his little defects might have been, he had a just appreciation of the duties of his office. His opinions and his charges delivered while on the Bench established for him a reputation as one of the strongest jurists in the State."
Here's to old Gib Wright, one of the most colorful and interesting cavalrymen of the Civil War, forgotten no more.
Scridb filter