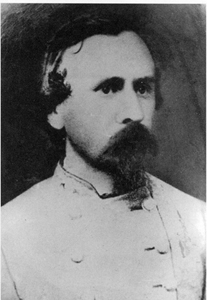 I've decided to profile a couple of my favorite forgotten Confederate cavalrymen this week. Both ended the war as colonels, but both temporarily commanded brigades at times. Today's profile is of Col. J. Fred Waring of the Jeff Davis Legion Cavalry, long a favorite of mine for the excellent diary of the last fourteen months of the war that he left behind. Thanks to old friend Paul F. Mullen for visiting the Georgia Historical Society in Savannah to get a couple of items on Waring for me. Finding biographical material on Waring is a challenge–he died young during a massive epidemic, so there is no obituary, and not much detail on his life has ever surfaced. What follows is the most detailed biography of him ever assembled or possible given the information that is presently available.
Joseph Frederick Waring was born in Savannah, Georgia on February 13, 1832. He was the son of William R. Waring, M.D. and Ann (Johnston) Waring. He had a brother named James J. Waring. Young Fred enrolled in Yale University, graduating in the class of 1952. He studied law in Philadelphia for a year and a half after graduation and then spent a year traveling around Europe. When he returned to Georgia, he became a successful planter, and also served as a city alderman in Savannah. He was married to Louise (Early) Waring.
He served in an elite militia unit from Savannah called the Georgia Hussars. Organized in 1749, the Georgia Hussars represented Savannah in all wars from colonial times through 1994. Waring became captain of Co. F of the Hussars. He took his company to Virginia a few weeks later, reporting for duty in Richmond upon arrival. Co. F was originally assigned to become part of the 6th Virginia Cavalry when they arrived in Richmond, but this did not last long. Captain Waring was wounded in the face on December 4, 1861 while leading a nighttime raid to try to capture Federal pickets near Annandale. He received "a ugly gash of an inch or an inch and one half to his right cheek from a buckshot. His head grazed by another. The skin taken off the knuckles of his right hand, twelve holes through the cape of his overcoat."
Three days later, Waring's company of Georgia Hussars was assigned to become Company F of the Jeff Davis Legion, which was also called "The Little Jeff." The Jeff Davis Legion was a hodgepodge—its companies included men from Georgia, Mississippi, and Alabama. Waring was promoted to major early in 1862, and then, after participating in the Peninsula and Maryland Campaigns, was promoted to lieutenant colonel of the Jeff Davis Legion Cavalry on December 2, 1862. Waring became the regimental commander that December when Col. William F. Martin, the original commander of the Legion, was promoted to brigadier general and was transferred to the Western Theater. Waring commanded the Little Jeff for the rest of the war.
His unit served in Hampton's Brigade, under the command of Brig. Gen. Wade Hampton, a gifted South Carolinian who eventually became the highest-ranking officer in the entire Confederate mounted arm. Waring ably led his unit through all of the major cavalry battles of the Eastern Theater, including Brandy Station, Gettysburg (where he was wounded for the second time), and Trevilian Station. In July 1864, he was promoted to colonel of the Legion, and that fall, he temporarily commanded Brig. Gen. Pierce M. B. Young's brigade (which included the Little Jeff). Waring was a "brave and gallant" officer, but was unpopular with his command. Some of his men remembered him as "the type of a perfect knight, he was as tender of the rights of others as he was jealous of his own spotless honor," and recalled him as "a leader of rare merit."
When Hampton was promoted to lieutenant general and sent to South Carolina in February 1865, his division, including the Jeff Davis Legion, went with him. Waring served through Sherman's Carolinas Campaign, including the March 10, 1865 Battle of Monroe's Crossroads, and surrendered at Bennett Place with the rest of Gen. Joseph E. Johnston's command six weeks later.
The war over, Waring returned to Savannah, where he took a job as forwarding agent for the Georgia Central Railway Co. He also became the commanding officer of the Georgia Hussars, a position that he held until his death in 1876. "In peace firm and upright, just and generous, prompt and untiring, he achieved success and deserved it," recalled a friend.
He returned to his post from a northern vacation just as a yellow fever epidemic reached its height. His job duties required him to be in the City of Savannah, and the disease struck him on September 30. He died of yellow fever at Whitesville, Georgia on October 4, 1876. He was only 44 years old when he died.
The men of the Georgia Hussars eulogized their fallen leader. "He was the pride of our Troop. Upon him centered our hopes, our love, our trust. The record of his life is our precious inheritance," they declared. "In the prime of manhood, in the full maturity of every excellence, with the apparent promise of years of usefulness, he has been taken. But he has not lived in vain if his life leads us to aim at his high standard. He has not died too young, whose name is already famous.
J. Fred Waring was buried in Savannah's Laurel Grove Cemetery.
Scridb filter