Tonight was the monthly meeting of the Central Ohio Civil War Roundtable. I've been a member on and off since the very first meeting of the group in the spring of 1999. I come and go; I spend so much time talking to Roundtables that it's difficult for me to motivate myself to go to meetings. As an example, I am speaking to the New Orleans CWRT a week from tonight and the Austin CWRT the next night. That's a lot packed into not a lot of time. I make maybe 20% of the group's meetings. It has to either be a friend speaking or a topic that REALLY interests me to get me to go. Tonight was the first meeting I've been to in months.
Why go tonight, you ask?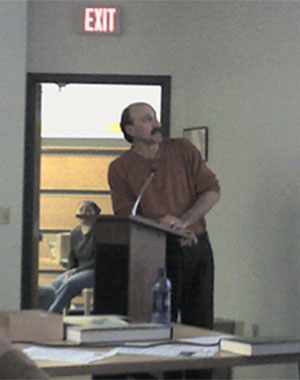 Because old pal and writing partner J. D. Petruzzi was our speaker this evening. J. D.'s sister lives here in Columbus, and the invitation from the CWRT afforded him an opportunity to kill two birds with one stone, as his sister and brother-in-law just built and moved into a brand new house that J. D. hadn't yet seen. He gave a really good talk on Col. Elijah Veirs "Lige" White, the Confederate partisan turned effective cavalry commander. White's one of those really interesting forgotten cavalrymen who contributed quite a bit to the Confederate mounted arm during the second half of the war.
It was a great talk, and the room was packed. We sold some books, had a nice dinner, and since he will be in town until Saturday, I will get to hang out with him a bit more while he's around. It's always great to see J. D., and I was glad to hear his talk tonight.
The "action" photo of J. D. doing his presentation was taken with Susan's cell phone camera, so please accept my apology for the less-than-perfect picture quality.
Scridb filter