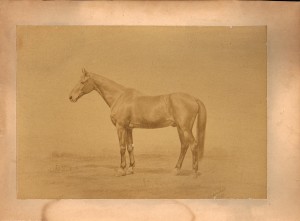 With much gratitude to Al Eelman of Philadelphia, who was kind enough to share both this photo and the accompanying narrative with me. For a larger version of the photo, click the image.
I often tell the stories of forgotten cavalrymen. Today, I get to tell the story of a cavalryman's horse, which is not something that I get to do very often. When I saw this photo and heard the story associated with it, I had to share it with you. Hence, I bring you this forgotten cavalryman story.
As some of you may know, a number of years ago, I edited and published a new edition of the memoir of the Appomattox Campaign written by Lt. Col. Fredric C. Newhall of the 6th Pennsylvania Cavalry, who served on Phil Sheridan's staff. After the Civil War, Fred Newhall returned home to Philadelphia, and in 1882, he wrote the following letter about his long-time companion, Dick, who served throughout the Civil War with him. Dick was a wounded combat veteran of many a campaign in the field:
DICK
HE IS 27 YEARS OLD THIS SPRING. HE WAS RAISED IN NEW JERSEY, AND IS OF THE "MAY-DAY" STOCK. I BOUGHT HIM 8MO. 1861 ON ENTERING THE ARMY, AND RODE HIM ALL THROUGH THE WAR. HE WAS IN MANY CAVALRY ENGAGEMENTS, AND IN ALL THE PRINCIPAL BATTLES OF THE POTOMAC, EXCEPT CHANCELLORSVILLE, AT WHICH TIME HE WAS WITH ME ON THE CAVALRY EXPEDITION, KNOWN AS THE "STONEMAN RAID" WHICH OCCURRED WHILE THE BATTLE OF CHANCELLORSVILLE WAS GOING ON. I RODE THIS HORSE ALSO IN GENERAL SHERIDAN'S CAMPAIGN IN THE SHENANDOAH VALLEY AND IN THE LAST CAMPAIGN AGAINST GEN'L LEE, WHICH TERMINATED IN VIRGINIA, IN THIS CAMPAIGN HE WAS WOUNDED IN THE LEG IN THIS BATTLE. ON THE DAY OF LEE'S SURRENDER AFTER THE REBEL FLAG OF TRUCE WAS DISPLAYED, I WENT ON THIS HORSE TO FIND GEN'L GRANT AND CONDUCTED HIM TO APPOMATOX COURT HOUSE TO MEET GEN'L LEE. IN MAY 1865 I TOOK THE HORSE WITH ME TO NEW ORLEANS, AND ON THE TERMINATIONS OF HOSTILITIES IN THAT REGION, I RESIGNED FROM THE ARMY, AND BROUGHT THE HORSE HOME WITH ME.
F C NEWHALL
Here's to Dick, a grizzled and forgotten combat veteran of the cavalry service of the Civil War who did his duty quite well.
Scridb filter