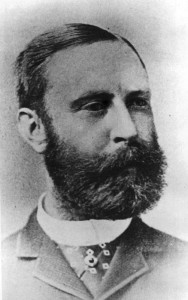 This is another forgotten cavalrymen profile that I've been working on for a while. This one features Maj. Jerome B. Wheeler, a man who led a fascinating life and who ultimately became both benefactor and scoundrel at the same time.
Jerome B. Wheeler was born in Troy, New York on September 3, 1841, the son of Daniel Barker Wheeler and Mary Jones Emerson. On his father's side, he could trace his ancestry to British barons, while his mother was a cousin of Ralph Waldo Emerson. Both of his parents were originally from Massachusetts. The family moved to Waterford, New York while Wheeler was a boy, where he attended public schools until the age of 15. In 1856, he took a clerical job, and from 1857 to 1861, he worked as a tradesman, "which may have included engineering, mechanical, or machine shop work."
Wheeler enlisted in the 6th New York Cavalry at Staten Island as a private for a term of three years on his 20th birthday. He stood 5'8″, had sandy colored hair, and grey eyes. He listed his occupation as "mechanic." He was assigned to Co. D of the 6th New York. The next day, he was appointed corporal, serving with his company while the new troopers of the 6th New York learned their trade. "Filled with patriotism and and an earnest desire to learn all the duties of a soldier, I performed with the various duties of drilling, riding horses, bareback to water, with only a halter to hold them, being run away with, and receiving numbers of falls, but escaping serious injury, and performing other duties incident to camp life, I concluded that I was becoming a hardened soldier," he recalled years after the war.
Late that fall, the 6th New York established its winter camp in York, Pennsylvania. On January 16, 1862, Wheeler was appointed battalion quartermaster sergeant. The regiment was ordered to report to Washington, DC in the spring of 1862, where it was mounted and then took the field. Wheeler was promoted to second lieutenant on October 27, 1862 after the 6th New York served at the Battle of Antietam. "Now I want you to earn it," declared Devin when he handed Wheeler the commission, promptly sending Wheeler and a detachment of troopers behind enemy lines to insert a spy. Wheeler came under fire at the Battle of Fredericksburg and at Chancellorsville, and scrapped with Maj. John S. Mosby's guerrillas in the spring of 1863.
Wheeler performed his quartermaster duties so well that by June 1863, he was acting as his brigade's quartermaster. Col. Thomas C. Devin, who commanded the 6th New York until he became commander of the 2nd Brigade, 1st Cavalry Division, knew Wheeler well, and used his talents wisely. When Brig. Gen. John Buford's 1st Cavalry division made its historic stand at Gettysburg on the first day of the battle there, Wheeler was acting as Devin's brigade quartermaster, and he had the important task of insuring that Devin's small brigade, which had a long front to protect, had sufficient ammunition in order to give it a fighting chance to fulfill its mission.
On September 1, 1863, partially in recognition of his fine service during the Gettysburg Campaign, Wheeler was promoted to first lieutenant. During the October 1863 Bristoe Station Campaign, Mosby's guerrillas attacked Wheeler's wagon train in an ambush. The guerrillas captured the train, and Mosby was in the process of looting it when Wheeler mustered as many troops as he could and led a ferocious saber charge that recaptured the train, captured some of Mosby's men, and set the rest of them running.
He served with distinction throughout the 1864 Overland Campaign. During the Battle of the Wilderness, he was ordered to report to Lt. Gen. Ulysses S. Grant's headquarters and was given the task of getting an enormous wagon train of wounded men back through Fredericksburg to the Potomac River, and then to bring back supplies, all the while operating in hostile territory. He accomplished this task in record time, earning the praise of Grant. He served through Sheridan's 1864 Shenandoah Valley Campaign, often having to contend with Mosby's guerrillas while escorting wagon trains from place to place, and it was Wheeler's orderly who was sent to Winchester during the Battle of Cedar Creek to inform Sheridan that his army was being shoved back from Cedar Creek by the enemy.
On January 16, 1865, Wheeler was promoted to captain, but remained in his role as quartermaster for Devin, who, by then, was in command of the 1st Cavalry Division. On February 26, his horse slipped and fell in Winchester, Virginia, pinning Wheeler underneath. "I was badly bruised and lamed," he recalled, "and was carried into a house nearby. It was several days before I could be moved, and in the meantime the Cavalry Corps was out of reach up the [Shenandoah] Valley, and much to my disappointment and chagrin, I was obliged to return to Pleasant Valley, where the corps train had been ordered." Hence, Wheeler missed the beginning of the Cavalry Corps' march to join Grant's army in the siege lines at Petersburg. Wheeler caught a train to City Point and arrived too late to join the Cavalry Corps' last campaign. Wheeler's April 1, 1865 return of service indicates that he was at Five Forks, Virginia, but he claimed that he was not present with the army when Lee's Army of Northern Virginia surrendered at Appomattox. He participated in the Grand Review of the Army of the Potomac in May 1865, and was then the 6th New York was ordered to report to Louisville, Kentucky, where it spent a pleasant summer. Wheeler and the rest of the regiment mustered out on September 5, 1865.
Although his service records do not indicate as such, he was breveted to major at some point in late 1864. One account of his life states, "late in the war, he was promoted to the rank of colonel, but his commanding officers reputedly revoked the promotion due to to a breach of discipline." Nothing in his service records supports this claim, but has been repeated numerous times over the decades since the end of the war. One account of his life indicated, "Wheeler was cited repeatedly for 'outstanding courage in the field' but was broken from his rank of Colonel for disobeying orders…he led a supply train through enemy Confederate lines to an encircled and starving Union regiment."
"During [Jerome's] service on the brigade and division staff he was always at the front, even when his duties did not call him to the post of danger; and his zeal, tempered always as it was by good judgment, was not surpassed by that of any of those with whom he served," declared Capt. William L. Heermance of the 6th New York Cavalry, himself a Medal of Honor recipient.
He mustered out of the army in September 1865, and returned home to Troy, New York, where he took a job as a bookkeeper, a position where his quartermaster skills served him well. He remained in Troy for about eight months and then moved to New York City, where he took a clerical position with a prominent grain merchant firm. He stayed there for two years before taking a position with Holt & Company, one of the largest grain brokers in the city. He spent ten years there, working his way up to a full partnership position by 1878.
In 1870, Wheeler married Harriett Macy Valentine, whose family owned a dry goods store in New York City called R. H. Macy, which still exists today as Macy's. By 1870, R. H. Macy was a full department store and was the largest and oldest retail store in the city. Harriett's uncle Rowland Macy, who ran the family business, developed a fatal kidney disease called Bright's Disease (which also claimed the life of Judson Kilpatrick). Rowland Macy's son, Rowland, Jr., was a dissipate young man, and Rowland Macy did not believe he was capable of running the family business. Instead, the operations of the company ended up in the hands of young man named Charles B. Webster, who was too inexperienced to run the business effectively. Webster approached Wheeler to join him in running the company, and Wheeler purchased stock from a family member and began his tenure as a partner in the venture.
From 1879-1888, Wheeler ran the affairs of Macy's as president and 50% partner, leading the company to record sales and profits. In 1882, Wheeler and Harriett visited Colorado, seeking a cure for Harriett's severe bronchitis. Wheeler was instantly smitten by the rugged beauty of the place. They visited Manitou Springs, and famous for its mineral waters, and built a summer home there. He started the Manitou Mineral Water Company, which was very popular back east, and was served at the Waldorf Astoria Hotel in New York City. While residing in Manitou, he heard of silver strikes in nearby Aspen and caught mining fever. Before long he had purchased interests in a number of silver mines, and sold his interest in Macy's in 1888 in order to focus on silver mining.
Wheeler also organized the Grand River Coal and Coke Company to provide coal to smelt ore and to fire railroad engines. He also founded the Aspen Mining and Smelting Co. to smelt the ore from his mines. He promoted and invested in the Colorado Midland Railroad and settled in Aspen, high in the Rocky Mountains. He founded a bank, built the Wheeler Opera House, and The Hotel Jerome in the newly affluent town. He also owned two other banks and a marble quarry. Before long, he was phenomenally wealthy. He invested nearly $6 million into developing Aspen, and is remembered fondly and as an icon there as a result.
"In a time of robber barons, Wheeler was a benevolent giant of industry," recalled one biographer. "Looking out for the welfare of others was a lifelong trait. He paid the way for many a young artist to study in Europe, he supported families that had no claim on him other than his sympathy. When the silver crash did come, he sent cattle and potatoes to feed starving families." Unlike the robber barons, Wheeler is remembered fondly as a good man who gave much back to the community that he helped to found.
But his wealth did not last.
The demonitization of silver in 1893 doomed his silver mining operations and the businesses that depended on those silver mines. His banks in Aspen, Manitou, and Colorado City failed and were forced to close, but Wheeler paid his depositors every dollar, and they lost nothing.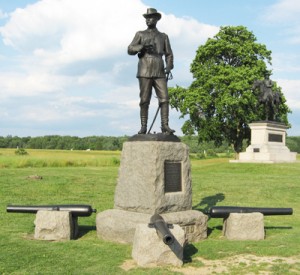 All along, Wheeler had been the patron of a gifted sculptor in New York City neared James E. Kelly. He subsidized many of Kelly's projects, and when the Buford Memorial Association was formed to erect a suitable monument to Wheeler's old commander, Maj. Gen. John Buford, Wheeler paid the bulk of the nearly $4000 cost of the handsome monument that was finally dedicated on McPherson's Ridge on July 1, 1896.
In 1892, Wheeler became embroiled in the first of a series of lengthy and costly lawsuits over one of the silver mines that ultimately ruined him. Most of these suits were from investors in the silver mining operations who claimed that they had been defrauded. In 1893, he lost a lawsuit and had a judgment of $800,000 taken against him. He lost several other cases associated with his silver mining activities, and was financially ruined. The combination of the judgments and the economic recession of 1893 caused by the crash of the value of silver cost Wheeler nearly his entire fortune. He lost The Hotel Jerome and Wheeler Opera House to back taxes, and in 1903 was forced to declare bankruptcy in the courts of New York.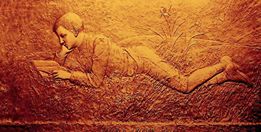 He died in Manitou Springs on December 1, 1918, still trying to regain ownership of the Wheeler Opera House. Jerome B. Wheeler was buried on June 26, 1919 at Woodlawn Cemetery, the Bronx, New York, Cypress Section 47, Lot 5486-90. The Wheeler Family plot is marked by a beautiful monument of his son, Clarence Wheeler, by James E. Kelly.
Jerome B. Wheeler left behind a truly mixed legacy. Part hero, part insubordinate officer, part patron of the arts, and part swindler, Wheeler marks the best and the worst that the Gilded Era had to offer. The modern city of Aspen, Colorado owes much to Wheeler, and he is largely responsible for the erection of the handsome monument to John Buford that stands atop McPherson's Ridge. But many lost everything as a result of his business dealings, and he lost everything he had made of himself as a consequence of his own overarching greed. His life is a cautionary tale of rags to riches to rags once again.
Here's to Bvt. Maj. Jerome B. Wheeler, forgotten cavalryman. With my thanks to William B. Styple for his assistance in locating Wheeler's gravesite and for the image of the monument to Clarence Wheeler.
Scridb filter