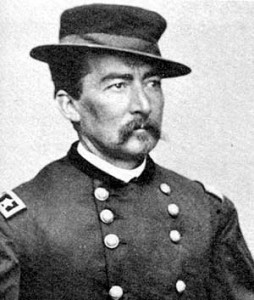 This announcement was passed along to me today:
The Phil Sheridan Society
Perry County Historical and Cultural Arts Society
Somerset, Ohio

The Perry County Historical and Cultural Arts Society are proud to announce the formation of the Phil Sheridan Society to help promote an understanding of the many aspects of the Civil War. The Phil Sheridan Society is dedicated to not only promote the history of the Civil War but to also promote the legacy of General Phil Sheridan. To accomplish this The Phil Sheridan Society is having a lecture series encompassing all different topics of the Civil War.
The public is cordially invited to attend all of the lectures and any events put on by The Phil Sheridan Society! The lecture series will commence on September 28, 2013, with a discussion by John Dye on Civil War medicine. The group will have a social hour at 6:30 pm at the Somerset Courthouse with the lecture starting at 7:30 pm. There will be a small $ 5.00 fee for the public or they can purchase a lecture series membership which will allow them access to all of the lectures for free. This is done to help offset some of the costs for the speakers so that the public will have access to some of the premier Civil War authorities within the state and the nation. The Phil Sheridan will meet on the last Saturday of the month with the lecture series lasting from September 2013 to May of 2014. Some of the other topics will include Morgan's Raid in Ohio, Ohio's Forgotten Civil War Generals, Ohio's wartime governors, Medal of Honor Winner Milton Holland, Abraham Lincoln, Nellie Sheridan, and of course, Nellie's famous son Phil Sheridan!
If you wish to get more information on The Phil Sheridan Society feel free to contact Craig Phillips at cphill17@columbus.rr.com with any questions.
I'm just guessing, mind you, but I'm thinking that they won't be asking me to come speak to their group any time soon….. 🙂
Scridb filter