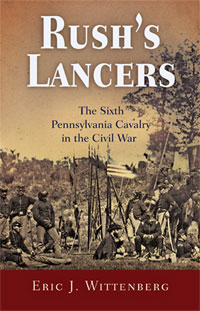 In 1994, I decided to gather material on the 6th Pennsylvania Cavalry, also known as Rush's Lancers. I wasn't sure that I was going to do a regimental history, but I was intrigued by this regiment, which was armed with a strange and cumbersome weapon. As I started learning more about the unit, I realized that it really deserved a modern regimental history. The original regimental history, based on the war-time diary of the regimental chaplain, was published in 1868. I decided to gather material and see if I could come up with enough to write a regimental history about a year later.
I spent more than twelve years researching and writing about this regiment. Along the way, one volume of soldier letters was published, and I have identified a second set that I expect will be published by the University of Tennessee Press as part of its Voices of the Civil War Series.
About 1998, I learned that Ed Longacre was also planning to do a history of the Lancers, and that he had signed a contract with the now-defunct Combined Books to publish the book. I knew that there would not be sufficient demand to warrant two different histories of the same regiment, so I contacted Ed. He agreed to make it a collaboration, and so did the publisher. I was to do the first half–up to and including the Battle of Brandy Station–and Ed was going to do the rest. I got busy writing and got my half done in about a year. I then sat and waited and waited and waited.
About two years later, Ed informed me that he wasn't going to be able to participate. So, I took the project on myself. In the meantime, Combined had been sold to Da Capo, and I had no interest in having my book published by them. The last thing I wanted was for my book to be remaindered 90 days after being published, so I arranged to terminate the contract, paid back the paltry $250 advance, and was free.
I then had to write the second half of the book, which proved much harder than I ever imagined. To my great surprise, there was much more and much better primary source material available for the first half of the war than the second. It was much more difficult piecing the second half of the story together than was the first part. I finally found an appropriate publisher, Westholme Publishing of suburban Philadelphia. Bruce Franklin, the publisher, does high-quality scholarly books, and he's also demonstrated a gift for getting attention for his books from major media outlets, so it was perfect. I signed a contract early this year.
One of my conditions was that Bruce use all of the nearly 90 illustrations that I had accumulated, as well as my maps, and he agreed. If you count the maps as illustrations, the book has about 110 illustrations.
Then, as I thought I had wrapped the thing up, I found another set of letters at the University of Pennsylvania. Bruce was kind enough to push back my delivery date for the manuscript to permit me to incorporate them, and I did. Then, after I had turned it in to Bruce to begin the production process, a second set–this time, in private hands and none of them ever before published–surfaced. They were far too good not to include, so we had another delay while I hurried to incorporate the good stuff. All of this meant that the book, which was supposed to be published in October, was pushed back.
If I might be so bold as to toot my own horn for just a moment, I'm proud to announce that, at long last, more than twelve years after beginning the project, my new regimental history of the Sixth Pennsylvania Cavalry, Rush's Lancers: The Sixth Pennsylvania Cavalry in the Civil War, has been published and is now available for purchase.
This is my thirteenth book. I probably have more of an emotional attachment to this one than any other, as I have so much of myself invested in it. I'm thrilled to finally see this in print. I can only hope that I have done the boys justice.
Scridb filter