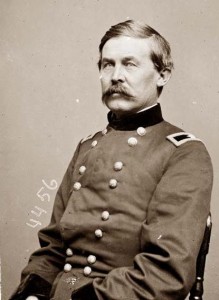 The photo at the left is of Brig. Gen. John Buford, whom I freely acknowledge is my single favorite figure of the Civil War. I've long harbored a fascination with Old Steadfast, as his men called him, and have had four articles on his role in the Gettysburg Campaign published in Gettysburg Magazine. Three of my books also touch on Buford's career heavily. But I've never done a monograph on Buford at Gettysburg, which is the topic that got me started on him in the first place.
About three weeks ago, I realized that I have published something book-length on every major cavalry action that took place north of the Mason-Dixon Line during the Gettysburg Campaign but one: John Buford's actions at Gettysburg. I am now in the process of correcting that oversight. I am doing a monograph on Buford's role at Gettysburg, June 30-July 2, 1863. It will include 16 of Phil Laino's excellent maps, a lot of photographs (including some rare, seldom-seen images), and a walking/driving tour with GPS coordinates. There will be three appendices: one addressing the myth of the Spencers, another discussing whether Buford's defense was a defense in depth or something else, and one addressing the question of whether Lane's Brigade formed square to defend against a feinted mounted charge by Buford's two brigades at the end of the first day's fighting at Gettysburg. J.D. Petruzzi will do an introduction for the project for me. I don't expect it to be a terribly long book, but it will be jam-packed with useful information.
I have been researching this for more than 20 years, and I am confident that this is going to be a quality project. In many ways, it's like visiting with an old friend, and I'm enjoying coming back to what has always been my first love with respect to the Battle of Gettysburg. Sit tight–I will update as to progress.
And, in a few days, I will have an announcement about another fun project that has nothing whatsoever to do with the Civil War. Stay tuned…..
Scridb filter