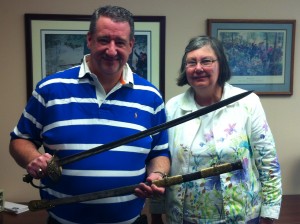 I had quite a rare treat today. Sharon McCardle, who is an officer of the Rockton, IL Historical Society, stopped by my office to visit. Sharon and her husband Karl had been in Gettysburg at the conference of the Company of Military Historians, where she set up a prize-winning exhibit on Brig. Gen. Elon J. Farnsworth. Farnsworth's charge and death are the cornerstone of my book Gettysburg's Forgotten Cavalry Actions: Farnsworth's Charge, South Cavalry Field and the Battle of Fairfield, so he's long been of great interest to me.
Sharon brought a number of very cool items for me to see, but none cooler than Farnsworth's saber–the one he was carrying when he was killed. I'm holding it and its scabbard in the photo. I've only had one cooler photo of me taken, which is of me holding John Buford's Henry rifle, taken many years ago.
That's Sharon in the photo with me. What a very neat thing to experience. Thanks to Sharon and Karl for coming to visit and giving me such a neat memory to savor.
Click on the photo to see a larger image.
Scridb filter