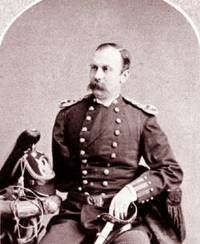 Here is another in my infrequent series of profiles of forgotten Civil War cavalrymen. Today's profile is of a particular favorite of mine.
Nineteenth Century American cavalrymen were the fighter pilots of their era—devil-may-care, flashy, equally eager to impress the women and eager to seek glory for dashing deeds of courage. When modern students of the Civil War think of cavalrymen, they conjure up images of Jeb Stuart, with his ostentatious ostrich plumes, or of George Custer and his flowing blonde hair and outrageous uniforms. Certainly, the cavalry produced more than its fair share of cads like Earl Van Dorn and Judson Kilpatrick.
However, it also produced some extraordinary soldiers—quiet, modest, competent men who went about their business in an efficient, professional way. This category includes men like John Buford, David Gregg, Wesley Merritt, and Thomas C. Devin on the Northern side, and Wade Hampton, Matthew C. Butler, Lunsford L. Lomax, and Thomas T. Munford on the Southern side. More interested in doing their jobs well than in reaping favorable press clippings, these men avoided the harsh spectacle of the press's prying eyes.
Theophilus F. Rodenbough fell into the latter category. In fact, it's quite likely that only a handful of readers of this blog have ever heard of Rodenbough. He probably would have wanted it that way. Nevertheless, his story has languished in obscurity for more than a century, and the time has come to pay tribute to a brave man who was a fine soldier who sacrificed his health in the service of his country. Instead of allowing that to destroy his life, Rodenbough used his post-Army career to become one of the most gifted and prolific military historians of the Nineteenth Century.
The son of Charles and Emily Rodenbough, Theophilus Francis Rodenbough was born in Easton, Pennsylvania on November 15, 1838. The boy's father owned a rolling mill and wire factory where the first telegraph wire was made. He had one brother, Joseph K. S. Rodenbough, who was also a successful businessman in Easton after the Civil War. His father was active in the Presbyterian church, and served on a number of boards of trustees, including that of a local bank.
Theophilus, a child of privilege, attended private schools, had special tutors, and enrolled in a course of mathematics and English literature at Easton's Lafayette College in 1856 and 1857. He left Lafayette after a year of studies and tried his hand at business, a field for which he was not well suited. The young man seemed adrift, searching for his life's calling. As the storm clouds of war gathered on the horizon in 1860, the young man realized that he might enjoy a soldier's life, and he set about pursuing his new dream.
Rodenbough enlisted the assistance of Representative Andrew H. Reeder, his Congressman, and began his campaign to obtain an officer's commission. On March 27, 1861, a scant two weeks before the first shots at Fort Sumter, President Abraham Lincoln signed a second lieutenant's commission for Rodenbough. Rodenbough would join the 2nd U. S. Dragoons, a legendary unit that produced the likes of John Buford and Wesley Merritt. Not long after the outbreak of the Civil War, the Regular Army's mounted units were reorganized and the 2nd Dragoons received a new designation, the 2nd U.S. Cavalry. Now that he wore a second lieutenant's shoulder straps, Theo Rodenbough had to learn his chosen trade. Unlike today, where new officers have the benefit of attending Officer Candidate School, there was no such luxury in 1861.
To learn how to be a soldier, Rodenbough reported to the Cavalry School of Practice at the Carlisle Barracks in Pennsylvania. There, he underwent intensive training and learned his new trade. The bright young man quickly demonstrated administrative abilities and became post adjutant and quartermaster for the Cavalry School, serving in that role during the first year of the Civil War. As a reward for his good service, he was promoted to first lieutenant later in 1861. By the time he reached his first anniversary in the United States Army, the young officer had mastered the skills needed to command horse soldiers in the field, and he joined his regiment in time to participate in the 1862 Peninsula Campaign.
On July 17, 1862, just fifteen months after joining the army, Rodenbough received a second promotion, this time to captain. By way of comparison, John Buford, considered by many to be the finest cavalryman of the American Civil War, did not receive his captain's bars until he had served in the army for eleven years. Of course, the coming of war provided ample opportunities for a capable officer to advance his career, and Rodenbough benefited by it. Rodenbough served with his regiment throughout 1862, and was captured at the Battle of Second Bull Run on August 30, 1862. He was exchanged a week later and rejoined his regiment just in time for the 1862 Maryland Campaign. In October 1862, he went on recruiting duty, raising a new company of Regulars, Co. L, of which he assumed command.
During the spring of 1863, he led a squadron on the Stoneman Raid in April-May, 1863. He commanded a squadron at the June 9, 1863 Battle of Brandy Station, where he was slightly wounded and had two horses shot out from under him. On June 28, 1863, Capt. Wesley Merritt, commander of the 2nd U.S. Cavalry, received a commission as brigadier general of volunteers and assumed command of the Army of the Potomac's Reserve Brigade. Rodenbough, the regiment's senior captain, took command of the 2nd U.S., just two scant years after joining the army. His rise through the ranks of the Regular Army, notorious for slow promotions, was meteoric.
He commanded the 2nd U.S. at Gettysburg and during the retreat, as well as during the fall fighting in 1863. Rodenbough had two more horses shot out from under him during the course of the Gettysburg Campaign. In the spring of 1864, with Maj. Gen. Philip H. Sheridan in command of the Army of the Potomac's Cavalry Corps, the Union horse soldiers expected a busy campaigning season. They were not disappointed. Rodenbough led his regiment at the Battle of Todd's Tavern on May 7, 1864, at Yellow Tavern on May 11, and during the Richmond Raid of May 1864.
During the opening moments of the Battle of Trevilian Station, on June 11, 1864, Rodenbough received a serious wound when shot at point blank range in the left shoulder by a South Carolina cavalryman. Following Merrit's instructions, Rodenbough led the advance of the Regulars himself, riding alone and in front of the rest of the Reserve Brigade. As he turned to give orders, a South Carolinian of Brig. Gen. Matthew C. Butler's Brigade shot him. Rodenbough turned over command of the regiment to his senior captain and retired, desperately wounded.
Merritt praised his subordinate. "Had Rodenbough simply detached the squadron, transmitted the orders through his adjutant and remained with his regiment he would have executed my order in the customary way. As it was I judged his action then as I have since regarded it as especially distinguished and of great benefit, as an example of valor, as well as leading quickly to an important result." Sheridan urged Rodenbough's promotion as a result of his valor on June 11. Thirty years later, Merritt submitted Rodenbough's name for a Medal of Honor, over Rodenbough's objections, writing, "I know of no living officer more surely entitled to the honor than he." In 1894, Rodenbough received the Medal of Honor "for distinguished gallantry in action at Trevilian Station while handling his regiment with great skill and unexampled valor." Rodenbough responded, "I value this distinction especially because it comes to me at the instance of my former commander, Gen. Merritt."
Rodenbough went on sick leave and recruiting duty before rejoining his regiment in September 1864, just in time for the Third Battle of Winchester. There, in the great mounted charge of five brigades at Fort Collier, on September 19, 1864, with Rodenbough leading his Regulars forward, he received another severe wound, this time costing him his right arm, which was amputated three inches below the shoulder. "At the battle of the Opequon, he displayed almost unparalleled gallantry and coolness," observed Maj. Gen. Alfred T. A. Torbert, commander of the Army of the Shenandoah's Cavalry Corps, "finally, near Winchester while charging at the head of his regiment in a brigade against the enemy's infantry, he received a wound which cost him his right arm."
In recognition of his valor at Winchester, he was brevetted major "for gallant and meritorious service." The severely wounded captain spent three weeks convalescing in the Winchester home of a staunch Unionist before going home to Easton for another three weeks. He then did recruiting duty in Philadelphia from November 1864-April 1865. He received a brevet to lieutenant colonel "for gallant and meritorious conduct during the war" on March 19, 1865.
During the winter of 1864-65, Sheridan and Torbert mounted a campaign to obtain a colonel's commission for Rodenbough so that he could take over the 18th Pennsylvania Cavalry. "He is a gallant and meritorious young officer," wrote Sheridan, "and would do honor to the grade asked for him." Torbert echoed a similar note: "He is one of the most deserving young officers of the cavalry, and will not disappoint any trust reposed to him." With such distinguished support for his promotion, Rodenbough received a commission as colonel of the 18th Pennsylvania Cavalry on April 29, 1865, and the thrice wounded officer served in the Middle Military Division, commanding the Brigade District of Cumberland, Maryland and the Sub-District of Clarksburg, West Virginia from June until November 1865.
Just four years and four months after joining the army, in July 1865, he received a brevet to brigadier general, U.S. volunteers, "for gallant and distinguished conduct during the war," and also received an assignment to duty at that rank from President Andrew Johnson. Dated March 13, 1865, he also received a brevet to colonel in the U. S. Army "for gallant and meritorious service at the Battle of Todd's Tavern," May 7, 1864 and to brigadier general, U. S. Army "for gallant and meritorious service at the Battle of Cold Harbor."
In recommending Rodenbough for his final brevet, Sheridan wrote, "Colonel Rodenbough was one of my most gallant and valuable young officers, under my command, in the Cavalry Corps, Army of the Potomac. He was constantly in the field with his regiment, the 2nd U. S. Cavalry (a portion of the time in command of it), from the spring of '62 up to the time of his being wounded whilst gallantly leading his regiment at the Battle of Opequon, September 19, 1864."
On October 31, 1865, he mustered out of the volunteer service and returned to 2nd U. S. Cavalry. In the winter of 1865-66, he joined the staff of Maj. Gen. Grenville Dodge as Acting Assistant Inspector General, a position he held until May 1866. "An educated soldier of strict integrity and excellent morals, his ability and past services entitle him to promotion," urged Dodge in a letter to Lt. Gen. Ulysses S. Grant in 1866. Rodenbough served at various posts in Kansas in 1866, and then received an appointment as major of the 42nd U. S. Infantry on July 28, 1866. He served with the regiment at Hart Island, New York and in various staff positions until May 1867, when he assumed command of the Plattsburgh Barracks in New York until the end of the year.
He then commanded the regiment and post of Madison Barracks in Sackett's Harbor, New York from December 1867 to April 1869. "On the eve of your departure from this command I avail myself of the opportunity to express my thanks for the efficient manner in which you discharged your duties while serving under me in the Department of the East," proclaimed Maj. Gen. George G. Meade in the spring of 1869, "both as regimental commander and in charge of the military station at Sackett's Harbor. Your official course has met my approval, and I feel confident that to whatever position you are assigned you will display the same zeal and efficiency which characterized your conduct here."
Rodenbough went on recruiting duty in Cincinnati and Detroit for a time. In December 1870, he appeared before a Retiring Board commanded by Brig. Gen. Irvin McDowell. After hearing testimony from surgeons and from Rodenbough himself, the panel concluded that the cavalryman was "incapacitated for active service, and that said incapacity is due to the loss of his right arm, about three inches below the shoulder joint, in consequence of a wound received at the Battle of Winchester, September 19, 1864." He was retired "with full rank of Colonel of Cavalry, on account of wounds received in the line of duty." He was just thirty-two years old.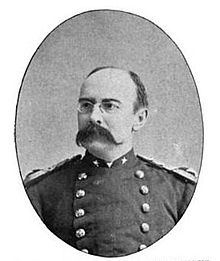 The gallant young colonel had married Elinor Frances Foster at the Church of the Incarnation in New York City on September 1, 1868. Their forty-four year marriage was fruitful, producing two daughters and a son, although their first child, Mary McCullagh Rodenbough only lived two years. After retiring from the Army, he remained active and productive. He served as Deputy Governor of the U. S. Soldiers' Home in Washington, D. C. in 1870-1871, and the accepted an appointment as General Eastern Agent, Pullman Car Company for two years. He served a two-year term as Associate Editor of the Army and Navy Journal in 1876-77, and became Secretary and Editor of the Journal in 1878, a post he held for twelve years. From 1891-1893, he served as Vice President of the Military Service Institution of the United States, and as Chief of the Bureau of Elections, City of New York, 1890-1892.
With the coming of the Spanish-American War in 1898, the sixty-year old warrior tried to obtain a commission and take the field again, writing, "Here is an old sword-blade not so rusty that it will take a respectable polish yet; and I imagine there are several others on the Retired List." He actively campaigned for an administrative position in the army, but his age and disabilities produced a gentle rebuff. He tried again in 1904, now sixty-four years old, writing, "I have the honor to apply for assignment to duty and detail on recruiting or other service, preferably with station in [New York City]." Rebuffed again, due to an act of Congress, Rodenbough was promoted to the rank of brigadier general, retired, in May 1904, meaning that the honorific of "general" became real, and not just by brevet.
Filling his retirement years, General Rodenbough proved to be a prolific writer and gifted historian. In addition to a comprehensive family genealogy, he wrote numerous articles on diverse topics such as Sheridan's May 1864 Richmond Raid, the Trevilian Raid, lessons learned by the cavalry in the Civil War, and others. He authored a superb history of his former regiment titled From Everglade to Canon with the Second Dragoons (1875) as well as a history of the Anglo-Russian dispute over Afghanistan (1882). He also wrote The Bravest Five Hundred of 1861, providing thumbnail sketches of various Medal of Honor winners, and a companion volume, Uncle Sam's Medal of Honor, as well as co-authoring a history of the United States Army. He edited the cavalry volume of Francis Trevelyan Miller's Photographic History of the Civil War, and headed the committee given the task of preparing a regimental history for the 18th Pennsylvania Cavalry.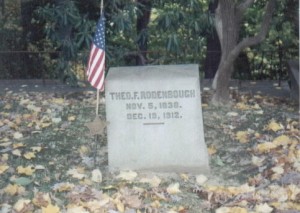 After a long and productive life, Theophilus F. Rodenbough died at his home in New York City on December 19, 1912. His wife, who joined him in death a few years later, survived him. He was buried with full military honors in the family plot in Easton Cemetery in his hometown. He was seventy-four years old, and he had packed a great deal of living into those years.
In nine years and eight months in the Regular Army, this dashing horse soldier earned five promotions, two brevets in the volunteer service, and four brevets in the Regular service. Along the way, he impressed almost every officer he served under. "General Rodenbough is a cultivated and refined gentleman of ability and integrity," wrote Maj. Gen. Winfield S. Hancock, summing him up nicely, "and is well and favorably considered wherever known. His record as an officer during the war was irreproachable, and he was disabled for life by the loss of an arm while gallantly performing his duty in battle."
His rise had been meteoric, and only his battle wounds terminated a promising military career that probably would have led to high command. But for those wounds, Rodenbough likely would be remembered as one of the greatest horse soldiers in American history. Thus ended the fascinating life of a gifted soldier and scholar, a man who spent his life in the service of the Army that he loved, and in doing the duty that marked his character.
Here's to Theo Rodenbough, forgotten cavalryman, Medal of Honor recipient, and cavalry historian. He was one of those natural soldiers who rose to prominence despite a lack of any formal military training.
Scridb filter