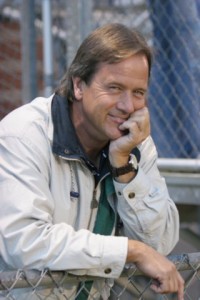 I was given the privilege of having the first interview with Stephen M. "Sam" Hood about a remarkable find that Sam made pertaining to his ancestor, Gen. John Bell Hood.
Sam Hood is a graduate of Kentucky Military Institute, Marshall University (bachelor of arts, 1976), and a veteran of the United States Marine Corps. A collateral descendent of General John Bell Hood, Sam is a retired industrial construction company owner, past member of the Board of Directors of the Blue Gray Education Society of Chatham, Virginia, and is a past president of the Board of Directors of Confederate Memorial Hall Museum in New Orleans. Sam resides in his hometown of Huntington, West Virginia and Myrtle Beach, South Carolina with his wife of thirty-five years, Martha, and is the proud father of two sons: Derek Hood of Lexington, Kentucky, and Taylor Hood of Barboursville, West Virginia.
Question: I understand that you are related to General Hood. How are you related to him?
I am a second cousin. I descend directly from his grandfather Lucas Hood, who was my great x 5 grandfather.
Question: When was this set of papers of General Hood's discovered?
Well actually, they weren't so much "discovered" as "realized." I was invited to the home of a direct descendent in June to look through what was thought to be just boxes of routine family papers and memorabilia that had been passed down and accumulated through the decades. The descendent knew I was finishing my book and thought that maybe…just maybe…there might be something in the boxes that I could use in my manuscript.
Question: What did you do when you discovered the collection?
I was utterly stunned. The family had set me up in a vacant bedroom of their home to use as an office, and brought out 3 or 4 bankers boxes, and invited me to call for them if I needed any assistance.
Question: What was your reaction when you learned of the existence of this collection of papers?
After a few minutes with the collection, my priorities immediately changed. When I saw the incredible historical importance of many of the documents my top priority changed from seeking interesting information to helping them identify and secure the documents, which was done. The task actually took two trips of 3 days each, with my wife Martha accompanying me and assisting me on the second trip. The valuable papers were identified, placed in acid-proof folders, and physically removed to the owners' bank safety deposit box. I made photocopies of everything to take home, where I began the process of transcribing the letters. It wasn't until then that I started finding the historically important content of the letters.
Question: Without being too specific, as I know that you want to maintain some semblance of confidentiality regarding the specific contents, can you give our readers an idea of what's in the collection?
Approximately 80 letters to Hood by high and lower ranked Civil War characters, Union and Confederate, wartime and postwar. Correspondents include Jefferson Davis, Robert E Lee, SD Lee, Braxton Bragg, James Seddon, AP Stewart, WH Jackson, SG French, William Bate, Henry Clayton, FA Shoup, Mrs Leonidas Polk, William M Polk, WS Featherston, Stonewall Jackson, James Longstreet, David S Terry, Matthew C Butler, GW Smith, PGT Beauregard, Louis T Wigfall, George Thomas, WT Sherman, and numerous lower ranked officers, mostly members of commanders' staffs. There are 61 postwar letters from Hood to his wife Anna, and 35 from Anna to him as he traveled in his insurance business. Also included are Dr John T Darby's two highly detailed medical reports of Hood's Gettysburg and Chickamauga wounds, and the daily log of Hood's treatment and recovery from the day of his leg amputation until November 24 in Richmond. The collection also includes Hood's Orders and Dispatches log and 4 volumes of Telegram logs for his entire tenure as commander of the Army of Tennessee. Additionally, Hood's first and second lieutenant's commission certificates from the US Army are in the collection, along with 4 remarkable documents: his original commission certificates for his ranks of brigadier general, major general, lieutenant general, and full general in the Confederate Army. There are also numerous photographs and other ephemera of Hood, his children, and his grandchildren.
Question: In your opinion, what is the significance of this collection?
You should probably ask credentialed scholars this question, but I can't imagine a discovery of Civil War documents being more profound than these.
Question: In your opinion, how does the unearthing of this collection change or impact the impression that the public has of John Bell Hood and his legacy to the American Civil War?
There are a few specific items that are quite profound. Letters from three separate officers identify Hood's subordinate who was responsible for the Confederate failure at Spring Hill. A senior commander explains Patrick Cleburne's behavior before and during the Battle of Franklin–characterized in modern Civil War scholarship as being peculiar–and it had absolutely nothing to do with General Hood. In one letter SD Lee makes some very serious charges against William Bate at the Battle of Franklin.
A letter sheds new light on the nature and intent of Hood's correspondence with Richmond authorities in the spring of 1864, characterized by Hood's critics as "poison pen" letters intended to undermine Joseph Johnston. Several letters back up claims that Hood made in his memoirs concerning controversies with Johnston, including the Cassville Affair, and Johnston's heavy losses during the Atlanta Campaign, mostly due to desertions.
Dr Darby's medical reports are fascinating, and include detailed daily records of the medications prescribed to Hood.
There is much more important historical information, although not so controversial.
Question: What are your intentions for the collection?
I have none. The owners, who insist on complete anonymity at this time, intend to retain all the original documents as treasured family artifacts. However, copies of all the documents will be released to a yet-to-be-determined public repository at some time in the future. I have begun work on an annotated book of the papers, which I hope to complete by next spring for publication next fall (2013.) Since the papers will be cited, copies will have to be made public at that time if not sooner.
Question: Have you used these newly-discovered documents in your forthcoming book, John Bell Hood: The Rise, Fall, and Resurrection of a Confederate General?
Yes. I was able to transcribe many, but not all of the letters, and none of the orders and dispatches or telegram logs. I was able to include much of the important information in my forthcoming book, John Bell Hood: The Rise, Fall, and Resurrection of a Confederate General (Savas Beatie Publishing, Spring 2013.) (It was originally to be titled History versus John Bell Hood but the publisher felt the new information justified the new title.)
Question: What would you like for the readers to know about your book?
Thanks for asking this question, Eric. Even without the newfound information I have always felt that available historical records disprove many of the outlandish charges that have been made against JB Hood in modern Civil War literature. Authors like Wiley Sword have cherry picked the records, filtering out of their books all evidence and testimony that doesn't paint Hood as an incompetent scoundrel. My book reveals to readers, as the late Paul Harvey used to say, "The rest of the story." Also, the paraphrasing used by critical authors is often remarkably misleading, and in many cases the exaggeration and hyperbole completely distorts the accurate context. My book is 100,000 words of examples of concealment of historical evidence and distortions, but it could have been 200,000 words long.
The newfound information just reinforces what the available historical records reveal about JB Hood had authors not had an agenda.
Eric: Thanks to Sam Hood for granting me this interview, and thanks to Sam for sharing this vital information with me.
My opinion is that this is, perhaps, THE most important find in my lifetime. This treasure trove of letters has the potential to dramatically change how history perceives John Bell Hood, and it certainly will help to change how history remembers Hood. This is certainly an exciting find, and I'm pleased that Sam chose to share these insights with me.
Scridb filter