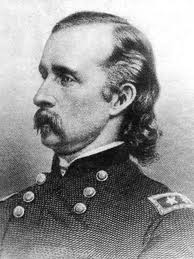 The other day, I was asked a couple of interesting questions. One question was whom do I think was the best Union cavalry commander, and as a subset of that question, where did I think that George Armstrong Custer fit into that calculation. The person who asked my opinion actually suggested that Custer has been underrated by historians. I answered the question about the best commander as I always do when asked to answer such questions, which was to identify John Buford as the best. I cited to John Gibbon's assessment of Buford–he wrote, "John Buford was the finest cavalryman I ever saw"–and said that was good enough for me.
The Custer question opened up a real can of worms that I've spent some time considering over the years. At one point, I was asked to write a bio of Custer, and I initially refused. I eventually agreed, but once I got into it, I realized that not only was my heart NOT in the project, after Jeff Wert's excellent, balanced, and fair bio of Custer, I realized that I had nothing to add, and eventually terminated the project. However, researching it and beginning to write it really forced me to sit back and take stock of this guy whom I had little positive to say about.
Personally, I would NEVER use the word underrated to describe Custer.
My thoughts on Custer have been a long, strange trip. For most of my adult life, most of my thoughts on Custer were seriously prejudiced by the end he met at Little Big Horn. I adhered to the theory that he was reckless and careless about the well being of his men. It bothered me a great deal that Custer had not paid his dues like Buford, George Stoneman, Alfred Pleasonton, David M. Gregg, and the others had. It also bothered me a great deal that this flamboyant man child got the press and attention that he got and that quiet competent professionals like Buford and Gregg did not ever receive. Consequently, I pretty much dismissed him out of hand as a poseur. Eventually, I realized that that was unfair and wrong.
My research into various projects forced me to study Custer's career in the Civil War. Much ado has been made about his exploits–read my friend Greg Urwin's Custer Victorious:The Civil War Battles of General George Armstrong Custer if you need an example of why I would never consider him underrated–and in most instances, rightfully so. He put up a real stinker at Trevilian Station, but other than that, his career in the Civil War was marked by tremendous luck that landed him in the right place at the right time, and some real talent at leading men.
Custer had a lot of real problems. Because he had never commanded much of anything when he was promoted to general, he had not come up through the ranks like his predecessors like Buford, Gregg, and even Merritt (who, as a brand new second lieutenant right out of West Point, served in the same company with, and under the direct command of, Capt. John Buford, and who was very much Buford's protege and greatest legacy to the Union cavalry). Consequently, he had little skill for and no experience whatsoever with the traditional roles of cavalry: scouting, screening and reconnaissance. He also was a political naif when it came to Army politics, not ever really having had to deal with them. In many ways, he was as Lee allegedly described John Bell Hood: all of the lion and none of the fox.
In 1864, when Sheridan took command, his style and Custer's meshed nicely, and Custer became his go-to guy. And, with the exception of his lackluster performance at Trevilian Station, it's pretty difficult to argue with his record. He was pretty much the ultimate hussar, as opposed to John Buford, who was the ultimate dragoon.
But, let's make no mistake about it. It's not a fair or appropriate comparison to compare someone who spent most of the war as a brigade commander with someone like, say, Gregg or Merritt, both of whom commanded the Army of the Potomac's Cavalry Corps at some point during the war and both of whom made their fame as division commanders. There's a quantum difference between commanding a brigade and a division, and an even greater expanse between commanding a division and a corps.
And so, my thoughts about Custer have come full circle. I am now able to see him clearly–both his good and bad points. At times, he was the reckless clod who charged blindly into whatever lay in front of him without doing any scouting. He had absolutely no skill or talent for the traditional role of cavalry whatsoever. But he was a fighter–of that, there can be no doubt. And he was an inspirational leader whose men loved him for his willingness to lead from the front. Most of all, he was lucky. And his luck finally ran out one hot, dusty day in June 1876.
In the pantheon of Union cavalry greats, I would place him well below the likes of Wesley Merritt or Custer's West Point classmate and rival, James Harrison Wilson. Why? Because Merritt and Wilson both had the skill and talent to be corps commanders, whereas Custer had neither the experience nor the political skill to be anything more than an outstanding brigade commander and a reasonably good division commander. I also would place Buford ahead of him, because Buford had no peer in the Union army as an intelligence gatherer who was also a ferocious fighter. And finally, I would place David Gregg ahead of him. At the end of the day, it was Gregg whom Sheridan relied upon most heavily in 1864 because Gregg was steady, experienced, and competent.
There are others whom I admire greatly. Robert H. G. Minty was probably the best Union cavalry brigade commander of all of them. Thomas C. Devin was terribly competent, terribly reliable, and deserving of the nickname "Buford's Hard Hitter," which pretty much speaks for itself. William Woods Averell deserves much better than he gets historically; much of the historical treatment of his career in the Civil War is terribly unfair. Averell certainly had his issues, but there was no better raider than him in the Union services, and his men adored him. George D. Bayard is the great unknown. After Stoneman, he outranked EVERYONE in the Union cavalry, and had he not received a mortal wound at Fredericksburg, he would have been next in line to command the Army of the Potomac's Cavalry Corps when Stoneman left the AoP for medical leave in May 1863. Bayard was young, competent, and aggressive, if unpopular with the men for being a terrible martinet, and he would have been a VERY different sort of leader than Alf Pleasonton, who was the ultimate lead-from-the-rear kind of guy. I'm not normally much of one for "what-if's"–there was enough that actually happened to keep me interested, not speculation–but that's a tantalizing one.
Given that a number of my books have dealt with the Michigan Cavalry Brigade–including my current project–I've had to really study Custer's tenure in command of the MCB in great detail. There can be no doubt that the men who followed him loved him unconditionally. It's clear that he was inspirational leader of very real skill. He was nothing if not aggressive–too much so at times–and he was a fighter. His poor grasp of army politics nearly cost him his career in the post-war army, and his poor treatment of those who served under him earned him the eternal hatred of some of his officers. But, it is very difficult to argue with his record of success. And in the end, that's what really matters.
He will never be my favorite, but I have come to respect him, and I have made peace with my relationship with him.
Scridb filter