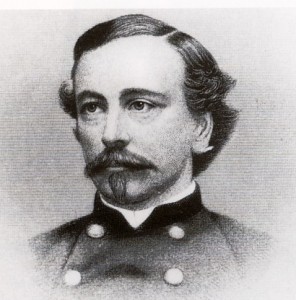 It's been too long since my last profile of a forgotten cavalryman. I've been meaning to do this one for a long time, but my regular readers know that events have intervened, preventing me from being as productive as I might otherwise want. However, it's time to change that situation. Today, we profile Col. Othniel De Forest, who commanded the 5th New York Cavalry for the first half of the Civil War. De Forest is more notable for the odd end to his military career than for his exploits in the field.
Othniel De Forest was born in New York City on August 13, 1826. He came from a family of Dutch poltroons who helped to settle New York. His father was Charles De Forest, of Connecticut, and Catherine Burlock, of New York City. Othniel had three brothers, David, Alfred, Linson, and a sister named Kate. David and Othniel both attended a private boarding school in Pottsville, Pennsylvania named Nazareth Hall. Nazareth Hall was the central boarding school for sons of Moravian parents. Later it attained wide fame as a "classical academy." This eventually led to the founding in 1807, of Moravian College and Theological Seminary, located in Bethlehem. In 1843, 17-year-old Othniel enrolled at Yale University, and graduated in 1847.
After graduation, he returned to New York City and took a job as a stockbroker, a position that made him a prosperous man who was well-known in the social and political circles of New York. He married Francis R. Nevins in 1851, and the couple had three children of their own, William (born 1855), Rebecca (born 1857), and Othniel (born 1862). Interestingly, the entire De Forest family—all of Othniel's siblings and his parents—all resided in the same building in New York City. De Forest also maintained a residence in Philadelphia, presumably for professional reasons.
In 1861, with the coming of war, De Forest was involved in recruiting several units for the State of New York. In July 1861 he received authority from Secretary of War Simon Cameron to raise a regiment of cavalry, and subsequently to raise a brigade. He succeeded in organizing two regiments and a part of a third, when the Government determined to raise no more Cavalry. These two regiments were the 5th and 6th N. Y. Cavalry Regiments, which were also known as the 1st and 2nd "Ira Harris Guards" in honor of the powerful New York Senator Ira Harris, who was the patron of these units. In 1862, he raised another regiment that became the 12th New York.
On July 26, 1861, the 35-year-old De Forest was mustered in as the colonel of the 5th New York Cavalry. De Forest had no prior military training or experience, and had to learn the hard trade of being a cavalryman. His younger brother Linson also enlisted in the 5th New York, and was commissioned as a lieutenant. De Forest and the 5th New York served in Stonewall Jackson's 1862 Shenandoah Valley Campaign, prompting Maj. Gen. Nathaniel Banks to write of De Forest, "As an officer, then and there, he showed much ability, and I do not hesitate to recommend him to the favor of the Dep't."
The 5th New York Cavalry then became a mainstay of a cavalry brigade commanded by Brig. Gen. John Buford during the Second Bull Run Campaign of the summer of 1862. When the Army of Virginia was dissolved after the debacle at Chantilly on September 1, 1862, Buford's brigade was assigned to the defenses of Washington, D.C.
During the winter of 1862-1863, De Forest became commander of the 3rd Brigade, Cavalry Division, 22nd Army Corps, Department of Washington. He held this command from April 7-June 26, 1863. This brigade was primarily engaged in pursuing and fighting the guerrillas of Maj. John Singleton Mosby and his 43rd Battalion of Virginia Cavalry. On June 26, 1863, De Forest left the regiment with an illness that kept him from active duty at the Battle of Gettysburg.
While De Forest was ill, the division was reassigned as the Third Cavalry Division, Cavalry Corps, Army of the Potomac. The 5th New York was part of the 1st Brigade. On June 28, a staff officer, Capt. Elon J. Farnsworth, was promoted to brigadier general, and assumed command of the brigade. Farnsworth's Brigade, and the 5th New York in particular, bore the brunt of the fighting at the June 30, 1863 Battle of Hanover. It also participated in the July 2 engagement at Hunterstown. Farnsworth fell while leading a futile charge against Confederate infantry and artillery on the third day of the Battle of Gettysburg, and Col. Nathaniel P. Richmond of the 1st West Virginia Cavalry assumed command of the brigade until De Forest returned to duty on July 10.
When De Forest returned to duty on July 10, he assumed command of the brigade, which consisted of the 1st West Virginia, the 5th New York, the 1st Vermont, and the 18th Pennsylvania. He retained command of the brigade into the winter of 1863-1864, but then it all went bad. On March 29, 1864, De Forest was dismissed from the service for "presenting false and fraudulent accounts against the government" after a court martial.
The shamed former brigade commander returned home to New York and attempted to resume his former successful career as a stockbroker, but he never recovered from the ignominious ending to his once-promising military career. On December 16, 1864, after what was described as a "brief illness," De Forest died of "congestion of the brain" at the young age of 37. He was buried in Woodlands Cemetery in Philadelphia.
Oddly, the dismissal was revoked March 14, 1866, and De Forest was posthumously restored to his rank as colonel of the 5th New York Cavalry to date to September 3, 1864, when his term of service would have expired.
Here's to Colonel Othniel De Forest, forgotten cavalryman whose tarnished career ended up being not quite so tarnished after all. I really want to get to the bottom of this mystery about why De Forest was cashiered from the army, and, more importantly, why the dismissal was revoked posthumously. I will report back when I know more….
Scridb filter