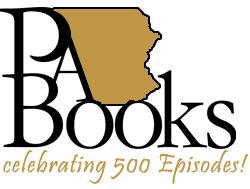 Today, I traveled to Pittsburgh and filmed an interview that will air on Pennsylvania Cable Network soon. PCN has an excellent ongoing series called PA Books, which features books about or impacting Pennsylvania. The Battle of Gettysburg has rightfully gotten a great deal of attention from this series, and I was asked to come and discuss the new edition of Gettysburg's Forgotten Cavalry Actions. We started out discussing the book, but ended up having a wide-ranging discussion of all things Civil War cavalry.
I don't yet know when my episode will air, but as soon as I do, I will let you know here.
For those of you who can access PCN but have never watched PA Books, you've missed more than 500 interesting episodes about a lot of interesting books. Do yourself a favor and check it out if you have access to PCN on your cable system.
Scridb filter