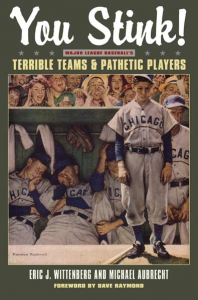 Here is the final cover art for You Stink: Major League Baseball's Terrible Teams and Pathetic Players, the baseball book that I've written with Michael Aubrecht. The image on the cover is a classic Norman Rockwell painting titled "The Dugout", which depicts the 1949 Chicago Cubs. The batboy's expression says most of what needs to be said, but the looks on the faces of the players in the dugout truly depict what we were trying to accomplish with this book. I'm tickled that the Kent State University Press decided to take our recommendation that that image grace the cover of our book.
Dave Raymond, the original Phillie Phanatic, who wrote the foreword to our book, said it best: "This is why we are baseball fans. Of course, we want to be champions but sometimes the hope from the eternal loser is stronger and more real than celebration of the perennial winners. So sit back and enjoy this celebration of the "most neglected topic in the annals of baseball history" and remember—it could be worse . . . you could be a Cubbies fan."
The best news of all: the book went to the printer today!
Thirty-eight years after I came up with the idea for this book, it's finally coming to fruition. I couldn't be more excited. Pre-orders for signed copies will now be accepted. The cost is $24.95 per copy, with $3.95 shipping and handling. It's $1.00 per copy in additional shipping and handling for those who order multiple copies.
Scridb filter