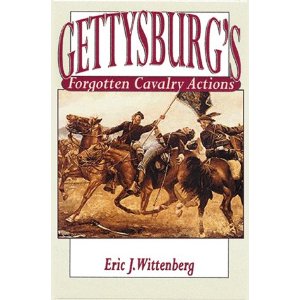 When the original edition of Gettysburg's Forgotten Cavalry Actions was published in 1998, it was named the third winner of the Robert E. Lee Civil War Roundtable of Central New Jersey's Bachelder-Coddington Literary Award as that year's best new work interpreting the Battle of Gettysburg. The handsome glass award occupies a place of honor in my office, and I treasure that award every day.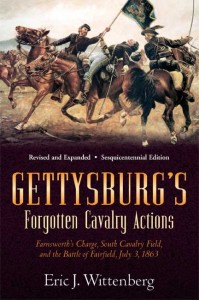 Today, I learned that the new edition, which was published by Savas-Beatie last fall, is also in the running for a major award.
Along with my fellow Savas-Beatie authors and friends James A. Morgan, III and Scott Mingus, Sr., my book has been named a finalist for the Army Historical Foundation's 2011 Distinguished Writing Award in the reprint category. I'm thrilled that the new edition has received this recognition, and even more so that I have done so with two friends whose first editions I published through the late, lamented Ironclad Publishing.
It would, of course, bring things full circle if the new edition also won a major award, just as the first edition did. That would be some neat symmetry indeed.
In any event, congratulations to Scott and Jim and to any other authors whose work has also achieved finalist status.
Scridb filter