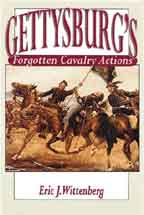 In the course of finishing the library project yesterday, I found something that I didn't know that I had. My first book, Gettysburg's Forgotten Cavalry Actions, was published in 1998. It won the Bachelder-Coddington Literary Award as the best new work interpreting the Battle of Gettysburg of 1998. The book has been out of print for four or five years now, and copies of the original edition have become quite rare. New copies of it sell for over $100, which amazes me. It's a softcover book of about 140 pages, and it retailed for $12.95.
I have a new edition of the book coming out in just a few weeks. The new edition is being indexed as I write this. It's fully revised, with a lot of new material being added. I'm excited about the new edition, but the original occupies a special place in my heart as my first book.
When I finished up the library project last night, I found a brand new copy of the 1998 edition of Gettysburg's Forgotten Cavalry Actions that I didn't know that I had. It's been years since I had one to sell, simply because it's long out of print. It's too close to the release date of the new edition, so I'm not going to try to sell it.
Instead, I've decided that I will give it away to one of you. We're going to have a little contest. If you want it, leave me a comment that explains the reasons why you should be the one to get it. I will select the winner two weeks from today, and will announce the winner here on this blog. Have at it, and have fun!
Scridb filter