For a couple of years now, I've been trying to get a handle on my library. It needed to be completely rearranged, and I needed a good place to put oversized books. Susan came up with a brilliant idea for how to accommodate that need. We got rid of the huge particle board computer desk, and replaced it with the Elfa shelving system from The Container Store. There are now three shelves of oversized books above the new desk, and I have a new desk and place for our old iMac computer.
So, here's some library porn for you. Every book that you see in these photos is a book on the American Civil War.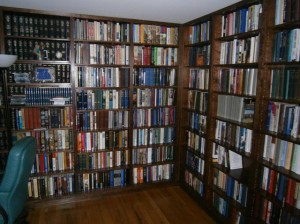 This first image
is the corner, where two walls of built-in floor to ceiling bookcases come together. I guess you could call that ground zero of the library.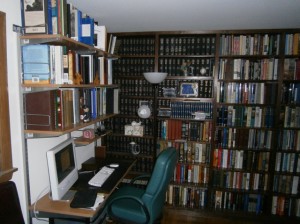 In this photo, you can see new desk with the three shelves of oversized books above it.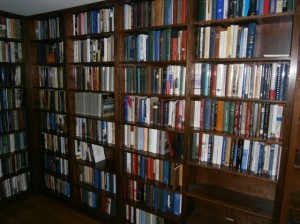 And, finally, this is the right wall. It's longer than the other wall and has more available space.
Fortunately, after the reorganization, I have about a bookcase and a half left of empty space, so that there is still room left to grow.
I didn't photograph them, but there are also three bookcases of other history books in the room, ranging from basic military history to presidential biographies, and pretty much everything in between. I also have a bookcase of nothing but books about the Revolutionary War in our bedroom next to my nightstand. And then there are Susan's books…..
We like books.
Scridb filter