Like every author who has had more than one work published, I have favorites among my various books. There are just certain projects for which I have a certain fondness, for whatever reason. In the case of Trevilian Station, it was my first campaign study, and the book was the first detailed tactical treatment of an important campaign. It was groundbreaking work, and that book was long been one of my favorites as a result.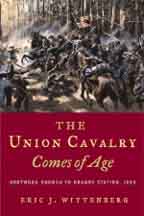 Another of my favorites is also the source of a great deal of frustration for me. In 2003, my book The Union Cavalry Comes of Age: Hartwood Church to Brandy Station, 1863 was published by Brassey's. To my displeasure, Brassey's allowed it to go out of print, and when they refused to print a new edition of it, the rights to the book reverted to me. This is one of my very favorites of my work, as it covers a range of material never covered in real depth before, since, or anywhere else. There are several cavalry actions detailed in this volume that had never received a detailed treatment previously, and I've long been proud of it.
The problem is that I cannot find a publisher that would be willing to take a shot with it and bring it back into print. Hence, I face a variety of options:
1. Self-publish it as a print-on-demand book as originally published.
2. Self-publish it as a print-on-demand book as a completely revised edition with new maps.
3. Self-publish in Kindle/Nook format only (thanks to old friend John Geracimos for that suggestion).
4. Continue to look for a new publisher for it.
There are pluses and minuses to each. POD is fine, but I've always had questions about the quality of the books so published. I don't have the cash or warehouse space at the moment to print a large quantity of them in order to have inventory on hand, so that's not really an option for me. Publishers are hesitant to bring out a new edition of something that has already been published, and Ted Savas, of Savas-Beatie, who is already working on new editions of two of my prior books, has already passed on this one because he doesn't think there's a good market for a new edition.
It pains me to see this book out of print. I would really like to see it back in print, but I have limited options. What do you–my readers–think I should do? Please give me your opinions, as I value them. Thank you.
Scridb filter