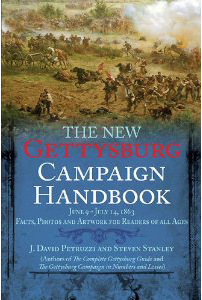 My friend and co-author J. D. Petruzzi and master cartographer Steve Stanley (who is doing the maps for my White Sulphur Springs book) have come out with an extremely useful little volume titled The New Gettysburg Campaign Handbook: Facts, Photos, and Artwork for Readers of All Ages, June 9 – July 14, 1863 that was just published by Savas-Beatie. I can't say enough good things about this book.
A couple of years ago, J.D. and Steve brought out their extraordinary guidebook to the Gettysburg battlefield that covers the battle in great detail and which also covers some really offbeat and off the beaten path aspects of the battle. However, some things had to be left out in the interest of space, and the new volume serves as a perfect companion to the Guide.
The new volume–softcover and small, for easy use on the battlefield–is precisely what the title suggests. It's a very useful tool for anyone interested in visiting the battlefield. It includes lots of useful and interesting tidbits, such as a listing of all 64 winners of the Medal of Honor for the Battle of Gettysburg, as well as a brief description of why each individual was awarded the Medal. It discusses weather conditions during the battle. It includes lots of fascinating factoids about the battle, and it includes a series of quotes by participants that give the reader something to deeply ponder while on the battlefield. There is also a gallery of photos and capsule biographies of some of the more important but less known personalities of the battle, such as Lt. Col. Benjamin F. Carter of the 4th Texas Infantry, who was mortally wounded during the fighting for Little Round Top on July 2, 1863 and was then buried in Chambersburg, Pennsylvania. The last part of the book is a reading list for those interested in further reading and learning about the events of July 1-3, 1863.
The most important portions of the book are the extremely detailed order of battle and the descriptions of the three days of the battle itself. Written so that even a Civil War novice will understand them, these chapters provide an excellent overview of the battle. They, alone, are worth the purchase price.
The book is done in full color. There are lots of excellent photographs by Steve Stanley, and Steve's maps are printed in full color. There is no cartographer in the business better or more talented than Steve Stanley, and his maps are presented here in their glory. The layout of the book is handsome and Savas-Beatie spared no expense in using Baxter paper to publish this volume. At only $18.95, this book is a real bargain.
I highly recommend The New Gettysburg Campaign Handbook for anyone with an interest in the Gettysburg Campaign. Everyone–from novice to expert–will learn something new here. It should be required reading.
Scridb filter