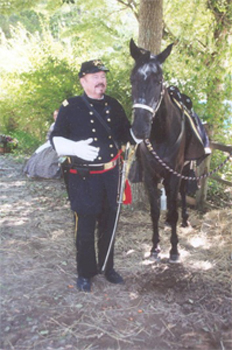 I first met Dr. Clark Donlin at a Civil War cavalry conference convened in Winchester, VA in 1996. Pretty much anybody who was a cav guy was there, and Clark was no exception. At the time, I had no idea who Henry Sawyer was, but Clark knew everything there was to know about Henry Sawyer. He told me that he portrayed Sawyer, and also told me that he was hoping to write a book on Sawyer.
Clark and I were in infrequent contact. He would call me once or twice a year to ask me a question, or run something by me, or look for advice, and we would e-mail. He was always very pleasant to talk to, and I always enjoyed our conversations. I continued to look forward to the end result of his research on Henry Sawyer.
When I decided to profile Sawyer on this blog, I figured I would get in touch with Clark to get some information and to run my write-up by him. As my regular readers know, I had a catastrophic hard drive failure in early June, and lost my address book, which was one of the two things not backed up on this computer. Without his contact information, I Googled Clark and was unpleasantly surprised to learn that Clark had passed away last October, after finally losing a long battle with heart disease and diabetes. The illness had forced him to give up portraying Henry Sawyer, and had forced him into an assisted living facility.
I would be remiss if I didn't acknowledge the passing of a dedicated student of Civil War cavalry operations. Born in Pennsylvania, Dr. Donlin moved to New Jersey in 1953. He taught U.S. history, civics before becoming first a principal and later a school superintendent. His career in education spanned 31 years. He and his wife Mary Ann were married for 52 years.
Clark was a member of the Cape May County Civil War Roundtable, The Lincoln Forum, the U.S. Cavalry Association, and the Brandy Station Foundation. He often portrayed Henry Sawyer and was devoted to telling Sawyer's life story. As an obituary in the Cape May Star and Wave newspaper put it, "He was passionately devoted to preserving Sawyer's legacy here. In doing so Donlin also established his own. He was devoted to Cape May, in his words, 'getting the Sawyer story right.' His research modified the mixture of historical truth and urban legend about Sawyer into a fact-based story."
I don't know what the status of Clark's research on Henry Sawyer was, or whether he ever finished his book manuscript. I am going to reach out to his widow and see if there is anything I can do to help fulfill Clark's dream and try to help her to get Henry Sawyer's story published in book-length form.
Rest in peace, Clark. I will miss our chats about cavalry.
Scridb filter