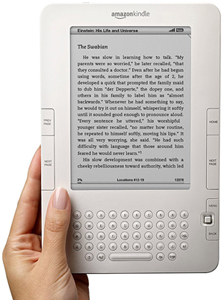 Last week, Amazon released its Kindle 2 wireless reading device. The concept works like this: the device, which is 1/3 of an inch thick, is like a big IPod, only for books. The idea is that you download digital files of books onto the thing, and you then take it with you and not large, bulky books. According to Amazon, the Kindle can hold 1500 books on the device.
I have really mixed feelings about this. David Woodbury is excited about it because of its convenience and because it's a nifty gadget perfect for travel. Rene Tyree bought one and really likes it. She also points out that there are a number of public domain books available for free or for minimal cost, all of which are useful to the researcher (Harry Smeltzer says he may buy one to use as a reader for public domain books downloaded for free from Google Book Search). The Author's Guild has criticized it as being another variation of an audiobook which will threaten authors' income streams.
The thing is not cheap. It retails for $359, which is nearly twice as much as an IPod Classic, and once you've bought the gadget, you still have to pay to download content to it. It's a proprietary technology, and all files downloaded have to be converted to the proprietary format in order to read them. That sort of digital rights management ALWAYS irritates me; I'm a BIG believer that this stuff should be based on open source technology available to all (which, by the way, also applies to the IPod. Fortunately, Apple has decided to allow customers to pay more to download songs that do not include digital rights management). Amazon has been smart about one thing: it has elected to permit individual publishers to determine whether they want their books to be available in a text-to-speech format, which reflects some indication that Amazon is being somewhat sensitive to the concerns of authors and publishers and to the substantial audiobook market as well.
I love gadgets. I have my fair share. I have had a series of laptops dating back to 1995. I have a smart phone. I have an IPod. I have Bluetooth devices. However, I just cannot wrap my arms around the idea of buying one of these gadgets and actually reading a book on one. I love the feel and look of books. I like turning pages. I like dust jackets. I like illustrations and maps. I just love everything about books. I can't get my arms around the thought that what I'm reading on this electronic gadget is a book.
At the same time, I have many more books than I do places to store them at this point, and I am very conscious of the fact that books take up a lot of space. You should see the piles of books all over the floor in my home office/library because I have nowhere else to put them. Relieving that problem would certainly be a Godsend, and one of these gizmos can help to do that to some extent.
I am also a publisher. As some of you may know, I'm the president and part owner of Ironclad Publishing. As the publisher of niche works, I'm always looking for means and opportunities to sell more books. These things may well change the way books are sold, and as someone who tends to be resistant to change, it worries me. At the same time, a downloadable electronic file has a much lower cost of good sold, so we can sell our products for a lower purchase price while bypassing our distributor altogether and still maintain or even increase our profit margin.
As an author, I am constantly left unhappy by the fact that unless I devote an inordinate amount of time to selling books by traveling and speaking and hoping somebody buys books (when my time bills at $225 per hour, I have to sell a LOT of books for it to be worth my while to be away from the office, and that is rarely the case), I don't make dirt from selling books. We recently got the royalty statement for One Continuous Fight: The Retreat from Gettysburg and the Pursuit of Lee's Army of Northern Virginia, July 4-14, 1863, and even though the book has sold well, my share doesn't even begin to cover the cost of having the maps drawn and the book indexed, let alone to make money on the book. Please believe me when I tell you that I make next to nothing on sales of books, typically less than $1.00 per book, when a distributor is involved and I have a co-author. It becomes a function of doing cost/benefit analysis, and in most instances, it simply doesn't make economic sense for me to be out of the office making a small profit on a book vs. billing paying clients at $225 per hour. So, I am eager to maximize revenues and make some money, and the Kindle offers another opportunity to do so.
This all becomes relevant to me because I will very shortly be bringing my first book, Gettysburg's Forgotten Cavalry Actions, back into print after its being unavailable for a couple of years. I've decided to offer it both in its original softcover format as well as in Kindle format, as it would be really nice to make some money on this book again; it's the only one I've ever done that brought about steady revenues. I also intend to discuss making a Kindle version of Scott Mingus' new book, just published by Ironclad, with Scott to see if he's interested in selling it this way too.
So, while I'm not keen on buying one of these gizmos, I understand that the publishing industry is in the midst of a sea change and that those who don't get on board with new trends will be left at the train station. I have come to the conclusion that, in spite of my significant concerns with the copyright issues associated with the Kindle 2, it's here to stay and that I need to avail myself of its benefits.
What say all of you?
Scridb filter