The fuzzy green fellow in the photograph below is the Phillie Phanatic. Anybody who has followed major league baseball over the last thirty years undoubtedly recognizes the best sports mascot there is. The Phanatic set the gold standard for sports mascots. He is a living legend.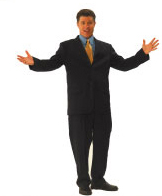 Michael came up with the absolutely brilliant idea of asking Dave Raymond to write the introduction to the baseball book. We'd thought of lots of great ideas for the book, but had neglected finding someone great to the introduction. My initial thought was to ask former major league pitcher and ex-Seattle Pilot Jim Bouton to write the introduction for us, but Jim declined when I asked. Hence we were groping in the dark, hoping to find someone who could capture the essence of what we're trying to do with this book. To his undying credit, Michael came up with the idea of asking Dave Raymond to do the introduction for us.
Dave spent sixteen years as the Phriend of the Phanatic, as he himself describes his role, and he was the first to bring the Phanatic to life. Today, he heads his own company, Raymond Entertainment Group, where he helps college and professional teams develop mascots, and then helps to train the men in the suits to be effective and funny mascots. He has the fabulous title–one I would love to have, by the way–of Emperor of Fun and Games. Personally, I can't think of anyone better to write the foreword for us, and I am tickled to have him on board with the project.
The project continues to grow and morph each day, which is a big part of what makes it so much fun. Thanks, Dave, and welcome aboard.
Scridb filter