Time for another of my periodic tributes to forgotten cavalrymen.
Albert Payson Morrow, born in 1842, was from Montgomery County, Pennsylvania. He was named for the town of Payson, Illinois. His father was the headmaster of the Hugh Morrow Select Boarding School in Hatboro, a private school he owned and operated. Ally, as he was known to the family, was a slender, handsome young man, 5'11", with a fair complexion and flashing blue eyes. He was a scholarly sort who preferred Shakespeare and considered himself to be an expert on the subject. He often helped his father teach the younger boys. As a youth, Albert expected to become a teacher and to follow in his father's footsteps.
In April 1861, Albert and his brother Leslie enlisted in a 90-day unit, the 17th Pennsylvania Cavalry as sergeant, Co. K. He served in Washington, D.C. and saw some combat until Albert fell ill. He mustered out with the regiment on August 1, 1861. A month later, he enlisted in Co. C of the 6th Pennsylvania Cavalry as sergeant, Co. C (his brother Leslie was appointed an officer in the U. S. Navy at that time). Six weeks later, he was promoted to first sergeant of Co. L, and to sergeant major of Co. F in February 1862. On March 17, he was again promoted, this time Regimental Sergeant Major.
He fought in the 1862 Peninsula Campaign, received a vicious saber blow to the head at Bethesda Church on June 13, and was captured. He spent several months in Libby Prison before being exchanged at the end of August. Sick and malnourished, he reported for duty on September 6, fighting with the regiment in the Maryland Campaign. In November, he made first lieutenant of Co. C. He was captured a second time at Chancellorsville and was exchanged almost immediately, just to be captured again by Mosby's men on May 13. He was again sent to Libby Prison, but was paroled on May 25 and was back with the regiment again on June 8, just in time to participate in the Battle of Brandy Station.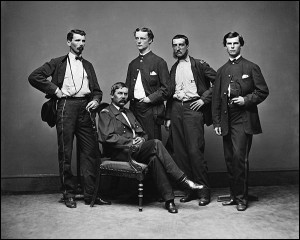 Morrow was wounded again at Greencastle, Pennsylvania while on a raid with Ulric Dahlgren on July 4, 1863. In the process, he had impressed his division commander, Brig. Gen. John Buford, who noted the young man's fearlessness and valor. When he returned to duty later that month, he joined Buford's staff. After Buford's death in December 1863, Morrow returned to his regiment and was promoted to captain of Co. B. He fought in all of the campaigns of the Cavalry Corps in 1864 and was promoted to major in February 1865. On March 20, he was promoted to lieutenant colonel, and received another severe combat wound at Gravelly Run on March 31, 1865. The bullet was never removed, and caused him suffering for the rest of his life. However, this wound gained him a brevet to colonel for valor. He mustered out with the regiment in August 1865 at age 23, having been captured three times, wounded three times, and was promoted eight times during the war.
The very handsome young man was quite popular with the ladies. His friend Myles W. Keogh wrote of him that he was "the devil among the ladies, as we say in the Emerald Isle." He served with Keogh on Buford's staff. In the photo above, Morrow is on the far right, and Keogh on the far left, both standing behind Buford.
Morrow soon realized that he was destined to be a soldier and not a school teacher. He missed the routine of Army life and the thrill of combat. On July 28, 1866, Morrow was commissioned as a captain in the newly-formed 7th U. S. Cavalry, quite an accomplishment for a young man with no formal military training. Another company commander in the 7th U. S. Cavalry was Myles W. Keogh, with whom Morrow had served on the staff of General John Buford. Morrow's commissioning into the 7th U. S. reunited these two old friends and comrades in arms. He served on frontier duty with his regiment at Fort Hays, Kansas until he was transferred to the 9th U. S. Cavalry and promoted to major in March 1867. The 9th U. S. Cavalry consisted of African-American soldiers, and was one of the famous "Buffalo Soldier" regiments that served in the West with great distinction during the latter stages of the Nineteenth Century.
Morrow participated in various expeditions against hostile Indians, including the 1876 Sioux Campaign and an 1878 campaign against the Ute Indians. In the fall of 1880, he was sent to France to witness maneuvers of the French army, and did not return to the United States until January 1881, when he was promoted to lieutenant colonel and appointed aide-de-camp to the commanding general-of-the-army, William T. Sherman. He served in that capacity until June 1, 1883, when he was relieved of that duty and returned to his regiment in Arizona. He was promoted to colonel of the 3rd U. S. Cavalry on February 18, 1891, and served in Texas until he retired from active duty in August 1892. During a long and successful career as an Indian fighter, Morrow received many commendations. After his retirement, Morrow was active in the Military Order of the Loyal Legion of the United States (MOLLUS), Colorado Commandery, and died on January 20, 1911.
Here's to another long-forgotten Union soldier, a man of great courage and ability who served his country with great distinction for more than thirty years.
Scridb filter