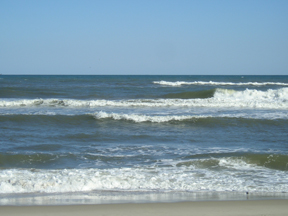 There is simply nothing like the sound of the ocean. It's a sound that is at once relaxing, reaffirming, and tantalizing. There are times when just hearing the sound of the waves crashing into the shore are what I need to get myself back in kilter and back in balance.
Due to job fluctuations and having to pay for care for my parents, Susan and I haven't had a vacation since May 2006. Until now, that is. We're in the Outer Banks of North Carolina this week, staying in a beach front house with some friends. I spent about an hour just flying a kite on the beach today. It was great therapy.
Other than to speak to the OBX Civil War Roundtable on Tuesday night, I am neither working nor doing anything Civil War while I'm here. This is about rest and recharging batteries, so don't expect to hear from again until we get back to Ohio a week from today.
Enjoy the respite from me while I enjoy the respite from the world.
And go PHILLIES!!!!! Scridb filter