I got to Gettysburg at 1:00 on Friday afternoon. I hooked up with pal Dwayne Siskey, and we met Dave Roth, the publisher of Blue & Gray magazine at the visitor's center. We loaded into Dave's truck and headed down to the south end of the field, so I could show Dave the traditional interpretation of Farnsworth's Charge. Dave shot a bunch of photos for it and some in the Wheatfield for another article, and we then headed up to Carlisle. We shot some photos for my piece on Stuart's shelling of Carlisle, including a couple at my alma mater, Dickinson College. We also found a house just behind the campus that was struck by one of Breathed's shells. We headed back to Gettysburg via York Springs and Heidlersburg, where I showed Dave one of my very favorite obscure spots, where Rhodes' Division camped on the night of June 30, 1863. It was a spot that Dave had never seen, which was the best part. We got back to Carlisle and said goodbye to Dave, who headed back here to Columbus. Dwayne and I had dinner at the Gingerbread Man, and I then gave him a quick and dirty tour of East Cavalry Field. We stopped by Stan O'Donnell's mansion by East Cavalry Field and had a beer with him before going to the bookstore at the Farnsworth House, and then on to the Reliance Mine Saloon. When we got to the Mine, I was pleasantly surprised to find old pal Blake Magner there. Blake's done the maps for seven of my books, and he's a guy I really enjoy working with. I had no idea Blake would be there, so that was fun. Randy Sauls, who is a regular reader of this blog, also walked in with several of his pards. Randy recognized me, and we sat and talked for quite a while. I enjoyed that. J. D. showed up about 9:00, and we all hung out until about 11:30. We then went back to Dwayne's to try to get some sleep.
Saturday morning, we got up early, had breakfast at The Avenue (no visit to Gettysburg is complete without at least one breakfast at The Avenue), and headed south. When we got to Westminster, we couldn't find the site of encampment, as it wasn't marked. The event was nice, but it was poorly organized. Nobody knew anything of what was going on, and we had to figure it out on our own. We finally found the site, set up our display, and waited. And waited. And waited. We sold six books the whole time we were there. It didn't even pay for the gasoline for the trip.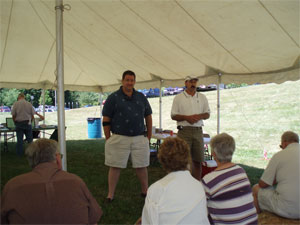 J. D. and me talking at the Corbit's Charge event. We had about ten people listening to us.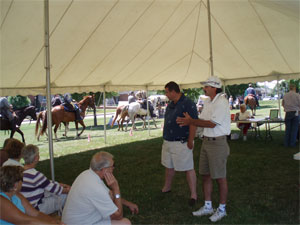 More of Dwayne's good camera work while we were discussng our book.
The passage of the horses was a major distraction. For me, too.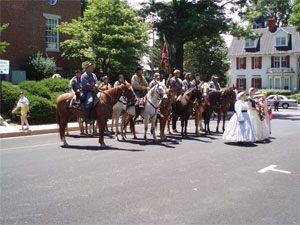 There was a very nice ceremony honoring the men who participated in Corbit's Charge. The bulk of the Confederate fighting was done by the 4th Virginia Cavalry of Fitz Lee's Brigade. Nine reenactors of the 4th Virginia participated in the ceremony to honor the brave men who fought there. They were quite good–authentic and well disciplined.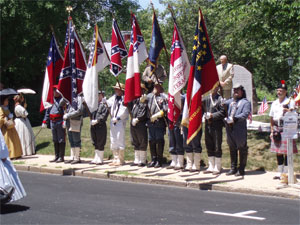 The local SCV chapter provided an honor guard that featured a bag piper and drummers. This photo shows that honor guard.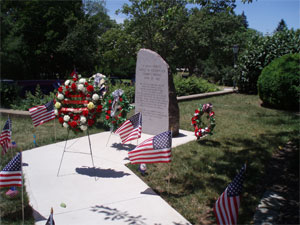 Last June, a handsome monument was dedicated to Corbit's Charge. The monument sits in the small veterans' park across the street from the Carroll County Courthouse. Here it is after the wreath laying ceremony.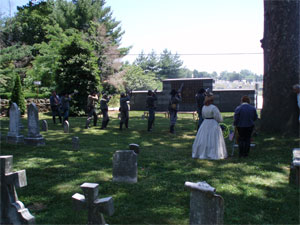 Two lieutenants of the 4th Virginia Cavalry were killed during the fighting that followed Corbit's Charge. One of them, Lt. John William Murray, still rests in the Episcopal churchyard across the street from the courthouse. There was a wreath laying ceremony at his grave that featured a 21-gun salute by the reenactors of the 4th Virginia Cavalry. Here they are firing that salute.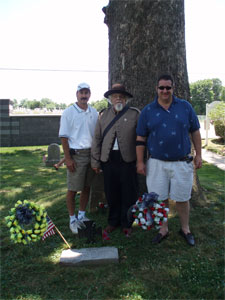 Local historian Tom LeGore has dedicated more than 40 years to the study of Corbit's Charge. He's the one responsible for the monument, and Tom is also responsible for the commemoration of the charge. This is J. D. and me with Tom by Lt. Murray's grave.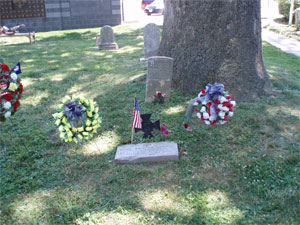 Here's a shot of Lt. Murray's grave after the wreath laying ceremony.
We left Westminster at 4:00. As I said, we sold six books the whole day. From a financial standpoint, the day was a disaster, big time. Another author sold only two. However, his trip was much shorter, so it cost him less, and he lost less. I was glad we got to see the ceremony, and we also had a good opportunity to hang out with two old friends, Alan Shikhvarg and Gerry Mayers, who were there as their alter egos, Lt. Gen. James Longstreet and Maj. Fairfax, who was Longstreet's adjutant. Pete Huey and his lovely wife also made the trip over to see us, and brought us some really cool stuff pertaining to his great-grandfather, Bvt. Brig. Gen. Pennock Huey. It was great to meet Pete and to see just a small percentage of what he's got.
We drove back up to Gettysburg via Taneytown, where we saw Meade's and Hancock's headquarters on the night of June 30. When we got to Gettysburg, we stopped by Dean Shultz's house for a while. Dean was hosting a pig roast for the Gettysburg College Civil War Institute. We visited for a while, and I got to catch up with regular reader Pete Vermilyea. From there, it was off to dinner at the Cozy Inn in Thurmont, Maryland. J. D. has a hollow leg, and he can really pack it away. Consequently, buffets are very popular with him, and this one was no exception. From there, it was back to Mine for a while. Although the day was not a financial success, it was nevertheless a good one.
Sunday morning, it was off to Antietam. Time was short, so we stopped at McDonald's for breakfast. I ran into Rick Carlile, who gave me the last set of letters for my history of the Lancers and his friend Craig, so we visited with them for a while. They were in town for the annual relic show at the Eisenhower Convention Center. We got there about 9:30 for a general overview tour. We had what may be a first: a meeting of four Civil War bloggers. If you click on the picture, you will be taken to a larger view.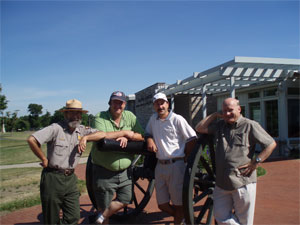 Here are the four bloggers, from left to right: Ranger Mannie Gentile, me, J. D., and Dimitri Rotov. Dimitri has written up his account of the tour, and so has J. D..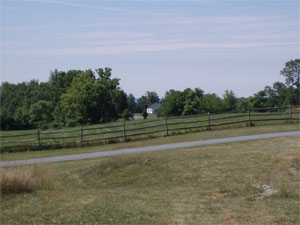 Mannie gives a killer overview tour. I've spent a good amount of time at Antietam and know the battle reasonably well, but I was impressed by his tour.
This is the Dunker Church from the Cornfield.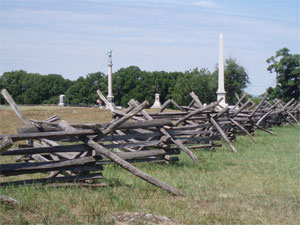 Union Second Corps monuments at the West Woods.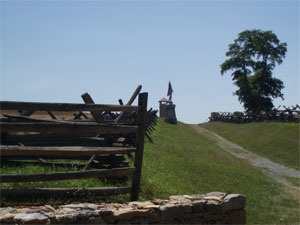 The Sunken Road.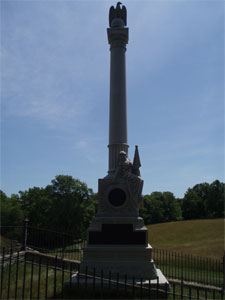 This is my all-time favorite Civil War monument on any battlefield: the monument to Sgt. William McKinley, for bravely serving coffee to the troops under fire and without orders. It's really the silliest monument ever, but it's also testimony to the incredible popularity of McKinley at the time of his assassination.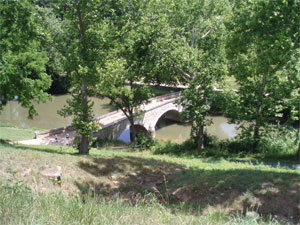 A shot of Burnside's Bridge from above.
At the end of the tour, Dimitri left us–he had stuff to do and had to take off. It was great to meet him, and I think his idea of a blogger get-together is a great one. Dwayne, J. D., and I then headed down to Harpers Ferry for a quick visit. We had lunch and wandered around for a couple of hours. Given the gorgeous weather, it's no surprise that the place was jam packed.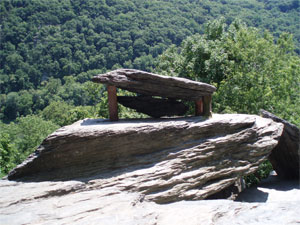 This is the Jefferson Rock on Loudoun Heights, overlooking the Shenandoah River. Pres. Thomas Jefferson stood on this rock, which is the origin of the name.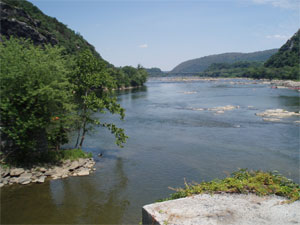 Here's the confluence of the Shenandoah and Potomac Rivers near the arsenal at Harpers Ferry.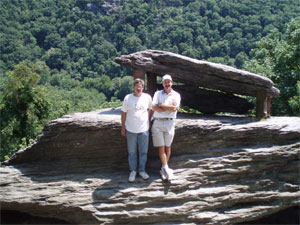 This is a shot of J. D. and Dwayne at the Jefferson Rock.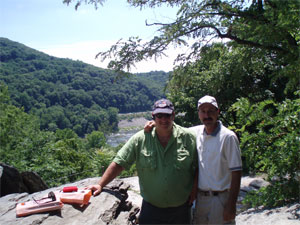 J. D. and me at the Jefferson Rock, with the Shenandoah River behind and below us.
We then headed back to the Antietam visitor's center, where I had left the car, and I hit the road for home.
Many thanks to Dwayne for being a good sport, a good host, and for doing an excellent job as official photographer for the weekend.
It was a very intense weekend, with a LOT packed into a very short period of time. No wonder I'm tired tonight. 🙂
Scridb filter