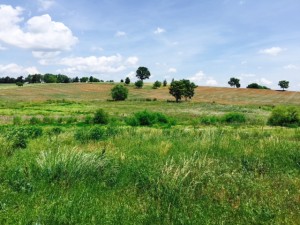 Here is how Fleetwood Hill looks today, June 1, 2015. This view is taken from the Flat Run Valley, to the south of where Lake Troilo once sat. Thank you to all of you who made this view possible–and especially to Bud Hall, the Civil War Trust, and those of you who made large donations to make it possible, and thank you to Tony Troilo for deciding to violate federal law. No thanks are appropriate for, nor should they be given to, Useless Joe McKinney and the Board of Appeasers, who idly sat by and let it happen in the hope of not offending Useless Joe's pal, Mr. Troilo.
Fleetwood Hill–the single most fought-over piece of ground in North America–is once more unfettered.
For a full-sized view, click on the image. Thanks to Clark B. "Bud" Hall for sending it along.
Scridb filter