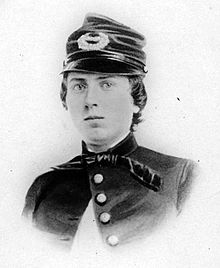 The soldier in the image is Lt. Alonzo Cushing, who is set to receive a Medal of Honor on September 15, 2014, 151+ years after his death at Gettysburg on July 3, 1863. Of the following facts, there is no dispute or doubt: Alonzo Cushing was a brave and very capable young soldier who died as a hero. Cushing, although horribly wounded, stood to his gun and pulled the lanyard, blasting canister into the faces of the Confederate soldiers of Brig. Gen. Lewis A. Armistead's brigade at point-blank range at the climax of the Pickett-Pettigrew-Trimble Charge. He was an incredibly brave young man who died a hero's death doing his duty. These facts are not in dispute. I admire Alonzo Cushing.
Having said that, I have real problems with him receiving a Medal of Honor now, 151 years after the fact. There were plenty of opportunities for the War Department to honor him in the years after the war, but it did not do so. 1520 Medals of Honor were awarded for valor in the Civil War. Many of them were politically motivated, like the one awarded to Maj. Gen. Daniel E. Sickles, who instead should have been the subject of a court-martial. Many were not really earned or deserved. Many were. A number of them were even revoked. But Alonzo Cushing was not deemed worthy of being awarded a Medal of Honor by his peers. That fact is also beyond dispute or controversy.
Again, this is not to take anything away from Lieutenant Cushing or his courageous stand at the guns on July 3, 1863. But I have real problems with his being awarded a Medal of Honor today. Is this really the sort of precedent that we want to set? Isn't this a slippery slope that will open up a big can of worms? Doesn't this open the door for the advocates of any soldier who did something brave to demand that that soldier also be awarded a Medal of Honor even though his peers did not believe his feats worthy of one? That's my real concern with this Medal of Honor being awarded to Alonzo Cushing, whose valor certainly deserved recognition.
As unpopular as this statement might be, my humble opinion is that if the veterans–Cushing's peers–did not deem him worthy of a Medal of Honor, who are we to question the wisdom of their judgment? I think that we should just have left well enough alone. The precedent that this Medal of Honor sets is not one that should have been set.
Despite my objections, I nevertheless congratulate Lieutenant Cushing and his supporters who spent so many years fighting to win the Medal for their hero.
Scridb filter