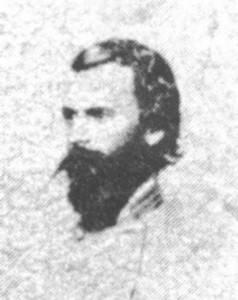 Many thanks to friend Clark B. Hall for sharing this poem with me.
Capt. William W. Blackford was J.E.B. Stuart's able engineering officer in the spring and summer of 1863. He was 31 and one of several brothers serving in the Confederate service. Blackford had a bird's eye view of much of the day's action, and he wrote this interesting poem about the June 9, 1863.
In case you were wondering why we fought so hard to save Fleetwood Hill, this poem ought to answer those questions.
Twice a thousand men in blue
And twice a thousand gray
Are pricking fast the space between
And ne'er a finer sight was seen
And ne'er a bolder band I ween
Then rode in that array

Around the good old Mansion house
In flowery paths they meet
And bloody brushed the roses bloom
Neath foaming charger's feet.

Terrific was the shock, the shiver
The lines of battle rocked
Worse to horse and hand to hand
Swaying back and forth they stand
In deadly conflict locked.

Tarnished is the sabre's gleam
By many a bloody stroke
And dimly fades the fray from view
In dust and cannon smoke.

Steeds with empty saddles strain
Around the field in fright
Pause and snort toss back their mane
And with look bewildered neigh again
For comrades left in the fight.

O'er their battery sweep the waves
Of hottest action and
Triumphant now we wrest the prize
The proudest in a soldier's eyes
Of captured cannon won

Beaten backward, stubborn still
Back from bloody Fleetwood Hill
Oft sound their bugles in retreat
For counter charges fierce to meet
Defiant still the bugles blew
With lines unbroken they withdrew.
Scridb filter